The T-Mobile-loving Motorola CHARM, a.k.a. the Motorola BASIL Project, showed up once again. The device should be officially announced later this month but at this rate we aren't sure if there will be any specs left unknown by then.
This is the third appearance of the rumored Android-based device and it hasn't been officially unveiled yet. When we first met the CHARM, we also found out some of its features and there were even a bunch of images of the smartphone itself.
To refresh you memory, the bar-shaped CHARM will pack a hardware QWERTY keyboard, a capacitive touchscreen and will run a MOTOBLUR-ed Android OS v2.1 (a.k.a. Eclair).
Then, the thing was spotted in a T-Mobile USA ad, according to which the cutie can be had for free by back-to-schoolers (see image below).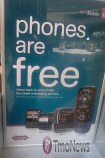 Going back to school? Motorola CHARM is coming with you
And today we get to witness the phone's first live appearance. Unfortunately, there are no new Motorola CHARM specs revealed, but we can expect those to begin surfacing quite soon. T-Mobile USA retail stores have just started receiving envelopes labeled "Motorola Basil Project". Geez... what could possibly be inside those?



The first Motorola CHARM live shot
The upcoming Motorola CHARM is said to be announced in late July which is only a few days away. As for the price, as we've just mentioned, the phone won't cost you a dime if you are willing to sign a new 2-year contract with T-Mobile USA.
It's still a mystery though if and when we'll see the charming CHARM in Europe and what it will go for on these shores.
c
At least it will be not held wrong like the...
?
cpu 600 mhz, 512 Ram, 512 Rom, android 2.1, latest Motoblur with froyo skin. Charm is the fastest device on Tmobile. Thanx Moto
ADVERTISEMENTS