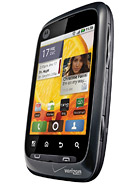 D
based on my experience with 3 android devices I rated the following:
9-design 3-features 6-performance

my biggest drawback was the first two applications I attempted to install end up being unsupported on this phone even though they are for android 1.6 and up
'mint' and 'rbfcu mobile'

in linux a different derived version is named something else
example: redhat linux is one version and fedora linux was based on redhat but both are different.. With this product it is falsely advertised as android, as its Motorola's more limited spin off of the android os...

this is my 2 of 2 terrible products i've purchase that where motorola.. totaling around 600$.

the cheap feel of the phone is expected at its price point but the operating system limitations where uncalled for, I would say spend a little more and get the lg vortex or better
?
Performance and Conclusion:


Call quality was lacking on the CITRUS. Callers complained that the phone had a cave effect, making us sound very hollow. They said that at times it was hard to make out what we were saying and rated us 7.5/10. Quality was decent on our end, but callers sounded thin. Battery life is rated at 6.33 hours of talk time, and with such poor system performance we doubt any power users will be using the CITRUS.

In sharp contrast to the LG Vortex, the Motorola CITRUS is everything you expect of an entry-level phone. The materials are cheap, the display Ė poor, and performance - lackluster. The lone bright spot for the CITRUS is the camera, but it is merely a decent performer, not anything spectacular. We really canít find much nice to say about the CITRUS, and with such a great entry-level option like the Vortex, we canít see why anyone would choose the Motorola.

Software version of the reviewed unit: 2.1-update 1, baseband: A3013_X_00.58.16P


\
Pros
Good battery life
Decent camera performance

Cons
Cheap materials, poor display

?
The right side of the Motorola CITRUS has the volume rocker and camera key while the left simply has the microUSB charging/data port. The power button and 3.5mm headphone jack is on the top. There is a channel running around the phone, which serves more to accentuate the sharp edges of the battery door. The back has the 3 megapixel camera and a Backtrack pad like we first saw on the Motorola BackFlip. There are two physical keys below the screen - send and end - and the four standard Android navigation keys are capacitive.

There is no other way to say it, the CITRUS feels pretty awful. We racked out brains, but couldnít think of a non-knockoff handset that felt this bad. The materials are low grade, the display is poor and build quality is suspect. Itís not that we think the CITRUS will fall apart necessarily, but it definitely feels like it might dissolve if you drop it in a glass of water.

Interface and Software:

The Motorola CITRUS runs the MotoBLUR UI atop of Android 2.1. There are seven homescreens, each customizable with the standard Android fare as well as the many Motorola widgets. As with most custom Android skins these widgets are the most useful elements. Motorola has slightly tweaked the stock apps like the dialer, messaging, etc but nothing is too different or of note.
There is a noticeable amount of lag to the on the CITRUS, probably thanks to the 528MB processor and 100MB of internal memory. There are several preinstalled apps, which is a bit of a big deal with so little system memory available. While this might not be such a big deal on the DROID X, a phone like the CITRUS is exactly why this carrier bloatware can ruin a userís experience.

It isn't quite as bad as the Sanyo Zio, but the screen has responsiveness issues at times. Double tapping to zoom, for instance, was finicky, and typing messages in portrait mode often brought about errors. The messaging software on the Motorola Citrus is good enough, but actually typing out the messages was often cumbersome to the point of frustration.

Camera and Multimedia:

The 3MP camera actually takes surprisingly decent pictures. Details were good and images were generally crisp, especially in good lighting. Indoor pictures picked up some grain and low light increased the graining. Videos were lackluster, with a maximum CIF resolution. Options for both are non-existent, the only adjustment you can make is image size.

The CITRUS uses the stock Android media players, but if you don't like them you can always download and install some made by third parties from the Android Market.


Internet and Connectivity:

As an EVDO Rev. 0 phone the Motorola CITRUS is relatively quick on the web. The stock Android browser is passable on such lackluster hardware, with support for double-tap and pinch-to-zoom. The Backtrack pad really comes in handy for navigation here as it acts like an optical mouse without having to use the screen. It has Bluetooth 2.0, Wi-Fi b/g and GPS. We were able to achieve a GPS lock in under 10 seconds using Google Maps.


?
Introduction:


How things have changed in just a year. Roll back to late 2009 and Android was making its debut on Verizon. The Motorola DROID and HTC DROID Eris took Big Red by storm, with top of the line spec sheets and tons of hype. Android was shiny, new and exclusive. Fast forward to the holiday season 2010 and Android is no longer in rarified air. Sure, there are still high end phones like the Samsung Fascinate and HTC DROID Incredible, but now it also occupies the low end as well, and there is no better example right now than the Motorola CITRUS. This entry-level model offers a 3Ē capacitive display, microSD expansion and a 3 megapixel camera. The CITRUS ships with a 2GB microSD card and combo USB/AC adapter charger.


Design:

The Motorola CITRUS is an eco friendly phone, made out of recycled plastics and is PVC and BFR free. Unlike previous eco friendly phones, notably from Samsung and LG, the CITRUS feels cheap. The back door has sharp edges and the plastic feels quite subpar. This feeling continues when you look at the 240x320 TFT display. It is grainy, hard to view in direct sunlight and colors look bland and washed out. Itís quite bad, to be blunt. Overall the phone feels like a pebble, kind of like a closed Pre if it were made out of cardboard.

G
SOKSBOKTIC, 09 Oct 2010FRIENDS any news about secondary calling if no then what about video calling?Camera secondary video calling:)
S
Big screen small resolution. No flash, secondary camera. Instead of wasting money for this phone go to buy cheaper, best, super, nokia c5
S
Big screen small resolution. No flash, secondary camera. Why to waste money. Go to buy nokia c5
S
FRIENDS any news about secondary calling if no then what about video calling?
Total of 33 user reviews and opinions for Motorola CITRUS WX445.