Here's a more conventional Android smartphone by Motorola - the QWERTY packing Motorola CLIQ 2, which is made for T-Mobile USA. With a 1GHz processor and Froyo, the Cliq 2 will easily put pressure on any other messaging droid - especially with that clever keyboard design.
The Motorola CLIQ 2 is the follow-up to the original CLIQ, but the specs sheet has grown considerably since then. The screen is 3.7" big with WQVGA resolution (854x480 pixels) stretching almost edge to edge on the front.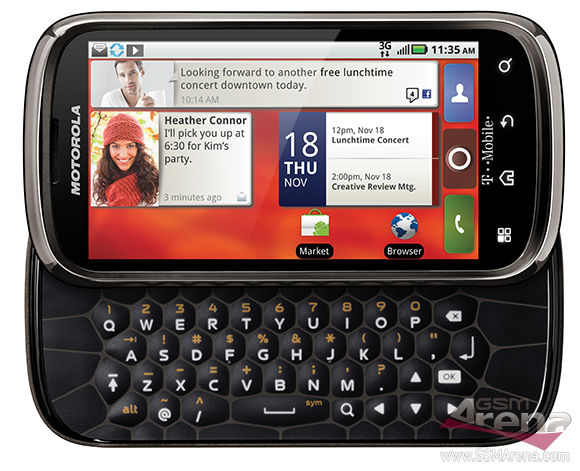 Below that is a four-row slide-out QWERTY keyboard with a clever design to shorten the distance between keys. The Motorola CLIQ 2 has a connectivity full-house - 3G, Wi-Fi b/g/n, Wi-Fi hotspot, DLNA and even Wi-Fi calling.
Other highlights of the Motorola CLIQ 2 include Motorola's MOTOBLUR UI, which is very capable in the SNS department, a 5MP autofocus camera with dual-LED flash, Office document editor, Flash 10.1 support in the browser and a 2GB microSD card preinstalled.
Here are some live shots of the CLIQ 2 from T-Mobile USA Facebook page.
The Motorola CLIQ 2 will be available exclusively by T-Mobile USA starting 19 January. We dearly hope to get a DEXT 2 clone for the European market.
Here's the CLIQ 2 in action, courtesy of T-Mobile.
J
Clearly you know nothing just by saying that nonsense.
1
I still have my Cliq in addition to Milestone, XT720 and Defy, simply due to the fact Cliq offers the most comfortable keyboard for SNS. Certainly anticipates Cliq 2, and please Motorola, don't make it for US or on-contract only via networks, as...
J
I see you changed your name in your post droid terminator!!
ADVERTISEMENTS