Motorola has some good news and some bad news - the Motorola Defy will be getting Froyo in Q1 next year, the XT720 is forever stuck at Eclair and older models won't even see Donut. A table reveals all and breaks owners' hearts.
So, the Motorola Defy, which is in our review queue, will be getting a raise from 2.1 Eclair to 2.2 Froyo starting next year. In Europe and Asia, the update will hit in Q2 2011 while Latin America will get it in the first quarter.
The Motorola XT720 isn't so lucky - it will remain with Android 2.1 Eclair. While Eclair gives you compatibility with most apps and some enhancements over 1.6 Donut, not getting the Froyo update means XT720 won't get that all important speed boost (or Flash for that matter).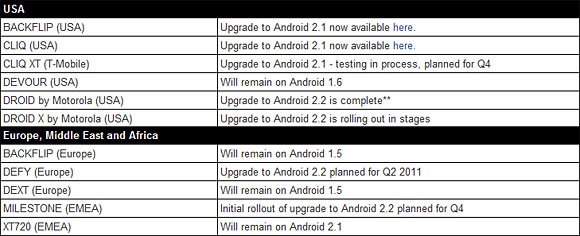 The Milestone will be catching up to its Droid with Froyo sibling by the end of this year in Europe and in Q1 next year. Other older phones like the Backflip and Dext are doomed to run Android 1.5 Cupcake - except in the US, where the Backflip and CLIQ already received their Eclair update.
It seems that the trend with manufacturers is to update each device once or twice tops and leave it at that. Not a pleasant thought considering Android 2.3 Gingerbread is just around the corner. Google phones are the only ones that get regular updates but the Nexus One is no longer selling to consumers (it's available as a dev phone) and the Nexus S is just a dream at this point.
v
its really annoying that defy gets the 2.2 and not the xt720,well motorola has done it again but i really hope that they change their mind and get the 2.2 for xt720 too
a
i bought the xt720 for 600$ in the midle east and after using it i discoverd the huge need to move app to sd card otherwise the phone is useless and the money i paid served me to buy a brick,i dnt uderstand y motorola always makes phones uncomplited ...
?
lol moto dext and backflip in europe and asia/australia will stay on 1.5, so fail for their customers and to moto. never buy moto phones outside of usa as they won't put effort into upgrading due to shite sales outside of america.
ADVERTISEMENTS