evleaks is on fire today, and following the leaked camera sample of the Motorola DROID Ultra, now the popular leakster has outed an official photo of the front panels of the Droid Mini, Ultra and MAXX.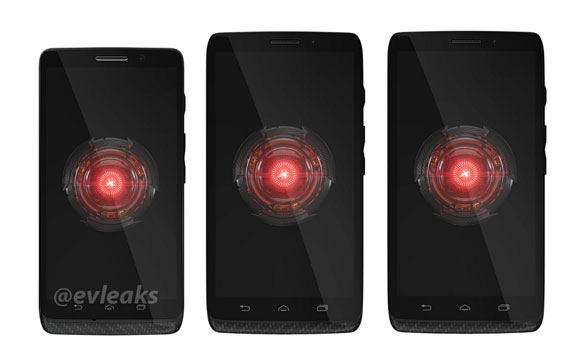 The photo reveals the design of the 2013 Motorola DROID series of phones. In a true Moto fashion, they are boasting Kevlar encasing, which helps not only durability but also keeping the weight in check. The company has also decided to go for capacitive keys instead of onscreen software ones.
Apparently, Motorola's plan for the 2013 RAZR/DROID lineup includes a Mini, which we reckon will replace the Intel-powered RAZR i and its Snapdragon-tasting RAZR M twin. In addition, there's going to be a MAXX variation of the Ultra, which as the name suggest, is built around a huge battery. The current-gen RAZR MAXX has a gigantic 3300mAh battery, and the 2013 DROID MAXX's battery should easily match or even beat that capacity.
Meanwhile, another leak, this time of a Motorola DROID Ultra advertisement storyboard, suggests that the phone will be able to last two days without the need of a recharge. There's also a hint of an advanced voice control software, but it may just be part of an upcoming Google Now update, rather than a new software feature by Motorola.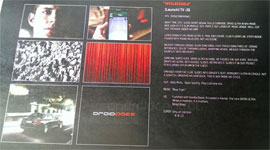 You can read how the advert would play out and see the key features outlined in it.
That's all the information we've got at that point. The Motorola DROID Mini remains a total enigma at this point, but as the leaks keep pouring, we'll probably know much more about it in the coming days and weeks.
M
Motorola Droid mini much liked with this specs: 1.Display.- 4.3inch Super AMOLED Corning Gorilla Glass 2 or 3 2.Memory.- 2GB RAM 3.CPU.- Dual-core 1.7 GHz 4.GPU.- Adreno 305 5.Battery.- 2300mah or 2700mh
J
Motorola please sell ur phones worldwide..you have a lot of fans everywhere not only in the states..
D
As I can see, the first photo leaks were from Droid Mini, not from its bigger brothers. Maybe, it is the same story about the specs. And did anyone in GSMArena read all that ad??? It tells us the date of the launch in US: 8-8-13!!! 8 of August 2013! ...
ADVERTISEMENTS