This one is definitely close to the top of the list of our favorite rumors of upcoming devices, which we have encountered to date. A mysterious, yet unannounced handset by Motorola found its way on the popular photo sharing site Flickr through its camera unit.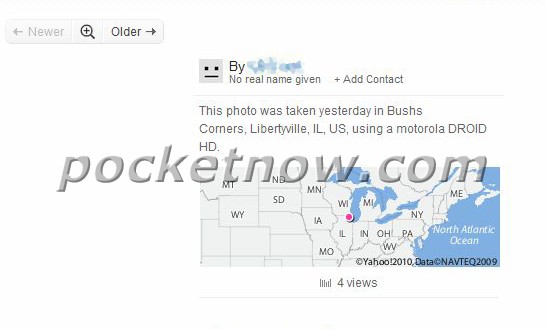 As you can see from the above picture, the device in question bears the name Droid HD. What makes this rumor so relevant it the location where the picture was taken (by the way, it is no longer online) - Libertyville, Illinois is a location of a Motorola campus. This fact makes the rumor as legitimate as it gets these days.
Now on with the Motorola Droid HD. As far as specs of the phone are concerned, we currently know, well, pretty much nothing. The name creates certain associations with an HD capable screen, much like the one which is rumored to land in the third Nexus phone in terms of resolution. Of course, it might just be a large 4.5" qHD unit as well.
There is a word in rumorland that the device in question might be the highly anticipated Droid Bionic for Verizon Wireless - an LTE packing, dual-core beast which is still yet to come.
At this point however, our guess is as good as yours. Feel free to tell us what you make of this picture in the comments section below.
b
It all sounds great...how hard can it be though to make the phone capable of GSM so we can use it in Europe also. My 3 year old blackberry can do that.
t
yes i believe dat in future it vll bcome 1 of d most demandable brand
D
Yes, I believe Moto will come up with a better GS2. And that for sure.
ADVERTISEMENTS