You can add gyms as a good place to find unannounced phones - that's where a Motorola Droid Shadow was found. The Android smartphone is the future successor of the Motorola Droid and possibly even the Google Nexus Two.
So far the Motorola Droid Shadow has appeared with Verizon branding and it will probably be an exclusive at launch. We of course expect to see a Motorola Milestone Shadow or something along those lines to appear at later stages.
The phone reportedly features a 4.3" WVGA screen and an 8MP camera with 720p video recording. There should also be goodies like mini-HDMI port and 16GB (or 8GB depending on who you believe) internal memory.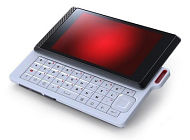 Photos of the Motorola Droid Shadow found in the gym • The Shadow should have a QWERTY version too
The Motorola Droid Shadow supposedly has 512MB RAM and was first said to run on an OMAP 3630 CPU clocked at 720MHz. The Shadow uses Motorola's MOTOBLUR UI, but we don't know what that means for a Froyo update.
Anyway, rumor has it that the Motorola Droid Shadow was found in a corporate Verizon gym in Washington. The device was soon remotely locked but the guy that found it, managed to confirm the screen specs, the 16GB internal storage and the camera. He also said that the CPU was a Snapdragon.
What was left unconfirmed however was whether or not the Motorola Droid Shadow has a slide-out QWERTY keyboard. Previous rumors said there will be two devices - a Motorola Droid 2 with QWERTY and Motorola Shadow without.
The Droid Shadow is expected to be released in June or July, so we should know more about it by then.
Source: Gizmodo, Howard Forums
R
I used a medicine of a reputed company in USA and I lost 20kg just 4 months.
V
Lol was real a trend back when to promote future devices just like that :)
F
Keep it up moto.. nice phn..
ADVERTISEMENTS