Motorola's next high-end Droid-branded handset for Verizon will apparently be called Droid Turbo. A few days ago we saw the first picture of its back, and today a comprehensive list of its specs has leaked.
This happened because someone put the Droid Turbo through the paces of the GFXBench benchmark, which helpfully has a publicly available list of specs for each device that runs it.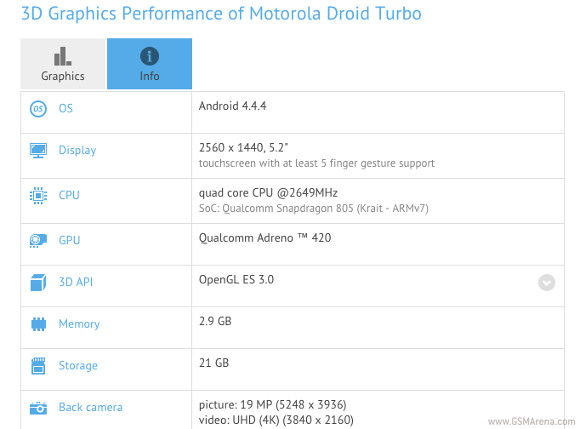 Hence, the Droid Turbo shall come with a 5.2-inch touchscreen with QHD (2,560X1,440) resolution, 3GB of RAM, a 20 MP rear camera, and a 2 MP front snapper.
The smartphone will be powered by a Qualcomm Snapdragon 805 chipset with a 2.65 GHz quad-core CPU and an Adreno 420 GPU. Internal storage is probably going to be 32GB, and the handset should also sport Bluetooth, GPS, NFC, a gyroscope, and a compass. It will run Android 4.4.4 KitKat.
That's all we know for now, but it's plenty to realize that this will be one top of the line device. It's still unclear when it will launch, but given all the recent leaks that has to happen sooner rather than later.
l
NEED Less bezzel is the solution
S
5.2 inch doesn't merit a QHD screen for God's sake. The upgraded processor coupled with a full HD wouldve been a true leap over the previous generation in terms of performance. The way I see it the performance will probably just the same. QHD should ...
D
Yeah i agree we normal people want to feel that our money was invested in a good device. Many cars can give the same ride and you dont even use the full hp but makes you happy if you know that there is a beast in the engine.
ADVERTISEMENT