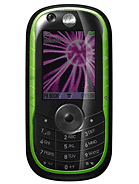 G
Is a superb phone. Grate design, and very nice features. This phone is the first on the top of my phones. I'll be first that will buy it from my country :)) I dream about it night and day. George the Phonofill :)) =))
a

From what i read about it, it can sync with Macs. Apparently, this is the phone that motorola has come up with with the guys from apple
B
i want to know if the phones screen is 240 by 320 or 320 by 208 cause ive seen both on the net.neway, really cool fone. way better than the e1000
S
Now thats what I call a real Zippin phone. Illuminated green border, this is the real style ! Peace
M
Now THIS is what i call 'The Ultimate Party Phone'... As a club enthusiast and a DJ, This phone fits way above well in my lifestyle. The green effect gives the retro touch and the rounded shape stands out more than others. Love it.
C
This phone looks like the nokia 6630 with a bit of extra meat at the top to make it look more balanced.
R
Hey I'm 14 too. I don't really like the shape of the phone. If it were shaped like the E1000, maybe it'd be nice but this phone is too round. But on the good side, this phone has a good camera and everything E1000 had so it makes it stylish AND has great features. You don't get that anymore...
Total of 72 user reviews and opinions for Motorola E1060.