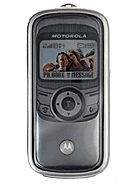 k
I've been using e380 for a while and i think there are several important improvements that have been made by Motorola. First of all, the menu navigation is much faster (although not as fast as my expectation), the menu is very good, the midi samples are great. Of course, the rhythm lights and interchangeable lenses are the main things here. Conclusion? I like it!!! (with camera and bluetooth added, this will be my perfect phone)
p
very very good design....
S
WOW!! I got this its great,, The menu system is a little different. But geat phone..
I feel that the nokia 3100 would have been a better choice..
M
I was wondering how much the Motorola E380 is going to cost and I will be able to buy it in the stores. I was also wanting to know if Sprint PCS will be affiliated with this phone.
D
VERY NICE!!!!! i want it for a second phone.

Total of 248 user reviews and opinions for Motorola E380.