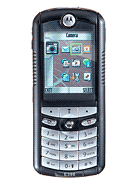 ?
Will cost around 360 EUR as a free (unlocked) phone.
I don't know when it's available in Malaysia, in my home country Austria it will release in may.


?
It will be interesting if this phone and the SE K700 are released at the same time!
a
This phone just looks so good...if it had a radio I'd buy it for sure, but I may end up getting it anyways even though it doesn't have one.
u
I want to have this type, but the problem is i can not have it because they dont sell it in Indonesia here in Indonesia.
My question is where can i buy it?
and How much is it ?,....is this 3 band or 2 band ?
Thanks
B
This phone is BRILLIANT! Although it has no IR or radio, its still great! I'll be buying! :D :P
?
cool y no Radio :( hope Motorola will include when ever this is released
?
Monalika dear u don't belong here get a NOKIA 1100 thats the best for u :D

M
please tell me whats usb port and MPEG player ???

whats - 3D audio, MP3 ringtones ??



M
Nice, but what the hell happened to the E390? I hope this phone will actually get a proper release, unlike the promised E390 which never materialised!
Total of 3593 user reviews and opinions for Motorola E398.