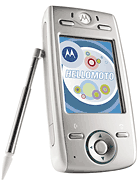 y
gosh..pls tell me there're no differences to the e680 and the e680i. or rather..tt e differences are so inconsequential (eg. up frm 1gb to 2gb) that there's little real difference between the two hps.
Juz bought my e680. love the hp like nuts. if only..

a) e680i was not launched juz a few wks aft i bought my hp
b) e680 had more games downloads...esp in singapore. most of the telcom services don't have games compatible with my e680 for some weird reason. for that matter...most mobile games servers don't have games compatible with the e680. anyone knows any sites i can check out for that?
h
E680 & E680i the hardware and software have difference as the BT supports 2 addational features for audio remote control mode, as for the software it's total different outlook compare to the E680 with advance softare enhancement..!!! The BT Services is GOOD!!!
L
I guess the difference between E680 n E680i is that the SD card slot for E680i can go up to 2GB.
E
i have the e690 right now, and when i saw at first this phone i THOUGHT it was going to have the following features

1. 262 k Screen
2. be lighter or smaller
?
wat the difference??
when this fone wil launch in malaysia
not 2 buy
y?
bcause when this fone launched, the E680 wil drop the price, n i can buy it at tat time..
he..he..
no difference ma...
Total of 492 user reviews and opinions for Motorola E680i.