Excellent social phonebook
A smartphone phonebook can store a serious amount of information about your contacts. It lets you input numbers for work and home, and you can even create custom labels. There is of course an email field and you can assign a custom ringtone.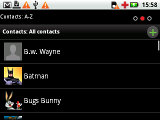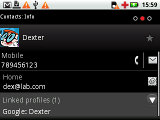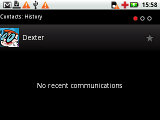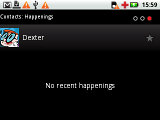 The Flipout phonebook is great
There are many info fields that you can assign to each contact, but it still remains perfectly organized. You have all the types listed (numbers, email addresses, etc) and there's a plus sign on the right – clicking it adds another item of that type. Pressing the minus sign under it deletes the unneeded field.
When viewing the contacts list you can swipe right to reveal the History – a list of all recent communications with all contacts. A left swipe on the other hand reveals all recent status updates from all contacts.
This swipe magic is available when viewing individual contacts too – in this case only history and status updates for that contact are displayed.
For this to work, you have to link the contact with their Facebook, Twitter, MOTOBLUR address book or Gmail accounts. This gets done in a second – tap the menu key, Link contact and pick the appropriate account (those are pulled automatically from the services you're logged on to).
The phonebook shows MOTOBLUR at its best – blurring the distinction between "local" and "online" and putting all the info from all the sources at your fingertips.
Telephony: no smart dialing yet again
The Motorola Flipout had no issues with reception and the in-call sound was loud and clear.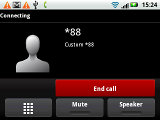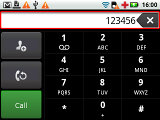 The in-call screen • No smart dialing again
Unfortunately, the Flipout, just like the rest of the Motorola's droid crew doesn't feature Smart dialing.
It does offer a few advanced features though – a double tap will silence a ringing alarm, while turning the Flipout facedown will only leave the vibration on. When you have a missed event, the menu, home and back keys start flashing – the next best thing to a dedicated status LED.
We also ran our traditional loudspeaker test on the Motorola Flipout. The Flipout scored "Average", meaning you could miss some calls in noisier environments. More info on the test, as well as other results can be found here.
| | | | | |
| --- | --- | --- | --- | --- |
| Speakerphone test | Voice, dB | Pink noise/ Music, dB | Ringing phone, dB | Overall score |
| Sony Ericsson Vivaz pro | 69.2 | 65.6 | 72.6 | Below Average |
| Motorola Flipout | 69.7 | 64.6 | 69.2 | Average |
| Sony Ericsson XPERIA X10 mini pro | 66.6 | 66.6 | 75.1 | Good |
| Samsung B5310 CorbyPRO | 73.3 | 71.8 | 80.7 | Very Good |
| LG GW520 | 77.1 | 74.8 | 82.7 | Excellent |
| HTC Aria | 74.9 | 74.8 | 83.8 | Excellent |
Messaging is doing well
All text-based messaging on the Motorola Flipout is handled in the Messaging app. It combines a unified inbox, standard text messaging, Gmail, Facebook and Twitter.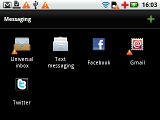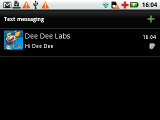 The Messaging app • threaded view for SMS/MMS messages
The SMS and MMS department is standard Android stuff – it offers threaded messaging and a simple compose message interface.
When viewing a thread, the newest message is placed at the bottom and messages are displayed as speech bubbles, just like on the iPhone. Unlike the dialer, the recipient field in the compose message UI has "smart search" start entering the name of the contact and suggestions will show up immediately.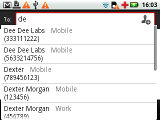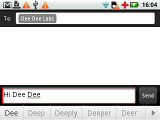 Composing a message and adding recipients
The tap-to-compose box starts off with a single line but it will expand to three lines if needed. It won't expand any more than this, but it would have covered the received messages if it did.
A press-and-hold in the tap-to-compose area gives you access to functions such as cut, copy and paste. You are free to paste the copied text across applications like email, notes, chats, etc.
A novelty, brought by the original MILESTONE and also present here is the new option that allows you to preset the number of messages recorded in each thread. Once that number is exceeded the oldest message gets deleted.
Converting an SMS to MMS is logical and easy. When you add multimedia content to the message, it is automatically turned into an MMS. You can just add a photo or an audio file to go with the text or you can choose to go into a full-blown MMS editor, depending on your needs.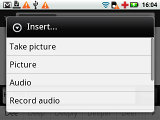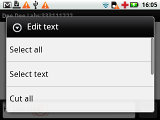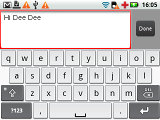 Adding multimedia content is one tap away • the onscreen QWERTY keyboard
Moving onto email, the Gmail app supports batch operations, which allow multiple emails to be archived, labeled or deleted. You can enable push email or schedule automatic updates. There's an option to sync only over Wi-Fi, which is sure to save you on data usage.
The Universal inbox looks and feels exactly the same as the Gmail app. It combines all your email accounts and it can handle multiple POP or IMAP inboxes.
Google Talk handles the Instant Messaging department. The G-Talk network is compatible with a variety of popular clients like Pidgin, Kopete, iChat and Ovi Contacts.
We'll cover the Facebook and Twitter sections of the Messaging app in the when we discuss the social networking features of the Motorola Flipout.