Motorola at IFA 2015
Moto 360 hands-on: Motorola at IFA 2015
Introduction
A year after the first generation took the smartwatch world by storm with its timeless looks, it is time for the new Moto 360 to step up to the plate. The new iteration of Motorola's acclaimed Android Wear device arrives on the market with revamped design, highly customizable body in two sizes, a version designed for ladies, and a brand new Sport model.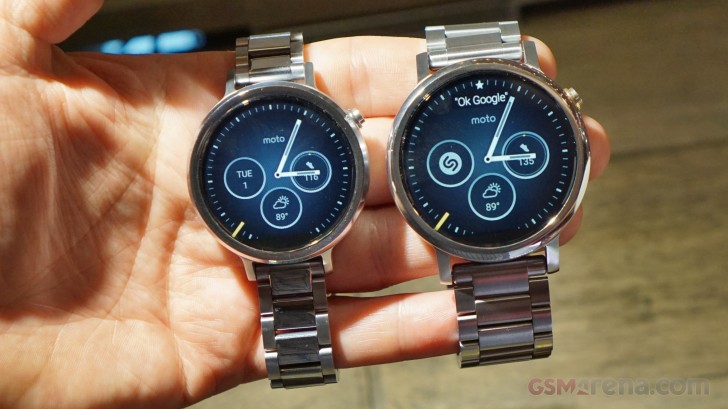 Of course, in addition to new looks and levels of customizability, the new Moto 360 also features improved hardware over the first generation. The newcomer packs a more powerful Qualcomm Snapdragon 400 solution, sharper display, and bigger battery. Take a look at its key features below.
New Moto 360 product family at a glance
1.56" LCD display with 360 x 330 pixels and 233ppi (46mm model)
1.37" LCD display with 360 x 325 pixels and 263ppi (42mm model)
AnyLight hybrid display (Moto 360 Sport)
Qualcomm Snapdragon 400 SoC with 1.2 GHz CPU; Adreno 305 GPU
512MB of RAM; 4GB of built-in storage
Bluetooth 4.0 LE; Wi-Fi 802.11 b/g; GPS (Sport model only)
400mAh battery (46mm model); 300mAh battery (42mm model)
Wireless charging support with bundled cradle
Built-in optical heart rate sensor
Built-in accelerometer, ambient light sensor, gyroscope, vibration/Haptic engine
Built-in Dual digital microphone
316L stainless steel body with IP67 dust and water resistance
Customizable in Moto Maker (roughly 300 combinations possible)
Easily swappable standard 22mm bands (46mm and 42mm models)
Easily swappable 16mm bands for women's collection
The standard for the segment Qualcomm Snapdragon 400 SoC found in the new Moto 360 promises speedier performance and faster firmware updates than in the outgoing model. The latter features a TI OMAP 3 chipset.
This year's Moto 360 is now fully customizable in Moto Maker too - users can choose from roughly 300 possible combinations of size, metal finish, body textures and accents, and wristband. This particular feature will be a key for the new smartwatch, as no competitor comes close to offering such levels of personalization.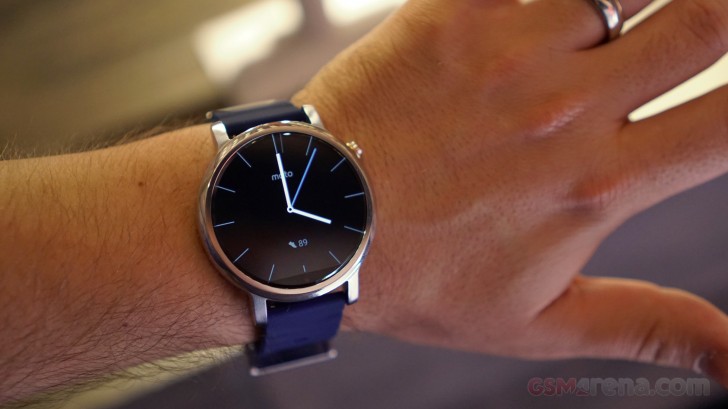 Sharper display is a welcome sight too. Once again it is not completely circular, though Motorola officials pointed that this setup is what allows the Moto 360 to feature ultra-thin bezels and bigger battery.
p
hi guy can you plz tell weather this watch is campatible with nexus 6p
f
well, I did watch the gear s video after this one and I can say that the the moto 360 is playing in a league of its own. That started last year, with the first model and is still unbeatable at design so far.
G
Here here! 'Goodbye Moto' should be their new slogan! :S