Motorola at IFA 2015
Moto 360 hands-on: Motorola at IFA 2015
Moto 360 hands-on
At a quick glance, the new Moto 360 is unmistakably a member of Motorola's smartwatch family thanks to its circular body and, more importantly, display with ultra-thin bezels. However, the addition of traditional watch lugs make the new wearable device look more mature than its predecessor.
Even though the above mentioned lugs are small design elements, the impact that they have on the appearance of the device is huge - this year's Moto 360 looks like a traditional watch. For comparison, last year's iteration looks more futuristic in comparison due to the seamlessly integrated bands into its body.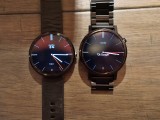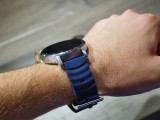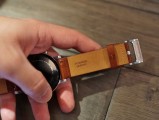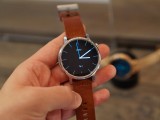 The lugs have a profound effect on the appearance of the new Moto 360
Overall build quality of the smartwatch is excellent. Moto 360 is made of 316L stainless steel and Corning Gorilla Glass 3, so it will handle daily use and abuse without breaking a sweat. Motorola's watch bands on the other hand, are either made from steel or from genuine Horween leather - they will certainly hold up well again normal wear.
Display
The display of both Moto 360 variants is now considerably sharper than last year's iteration. The unit is once again not fully circular in order to make space for the easy integration of sensors into the Moto 360.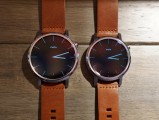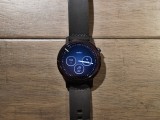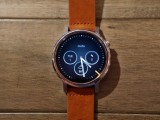 Sharper display at your disposal
Like we already mentioned, Motorola execs defended the choice of screen shape with the superb screen-to-body ratio of the new Moto 360. At 71.7%, it is considerably better than all of its competitors'.
In real life, just like in case of the first Moto 360, having a display that's not fully circular is not a deal breaker, so long as you use a dark watch face. Opting for a light one however, immediately draws the attention to the unconventional shape of the unit.
Moto Maker
Introduced alongside the original Moto X in 2013, Moto Maker is now fully available for buyers of the new Moto 360 as well. There are roughly 300 different combinations of color, finish, and band for the smartwatch, so users can truly have it their way.
In the case of the regular 42mm and 46mm Moto 360, users can choose from black, silver, or gold stainless steel finishes for the body and the bezel (you can mix them if you wish). Bezel treatments include chamfer and micro knurl, while wristband options feature silver, black, and gold metal, as well as black or cognac Horween leather.
The women's variant of the smartwatch is available in silver, gold, or rose gold body and bezel color. The bezels can be ordered in peak or micro etch finish, while the available 16mm bands include silver, gold, and rose gold metal, blush and grey leather, as well as blush double wrap leather.