After the numerous photos leaked on the Internet of the code-named Canary and Capri prototypes, Motorola finally officially announced the mobiles under the names Motorola KRZR K1 and Motorola RIZR. Along with them, the manufacturer also presented two HSDPA handsets - Motorola RAZR maxx and Motorola RAZR V3xx, which in fact are the first HSDPA models of the company.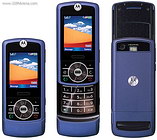 Motorola KRZR K1 • Motorola RIZR • Motorola RAZR maxx • Motorola RAZR V3xx
Motorola KRZR K1 is a quad-band GSM clamshell offering a 2 megapixel camera, MP3 player, stereo Bluetooth headset support (A2DP), and a microSD card slot in a slim and slender body measuring only 103x42x14 mm and weighing 102 g. The phone is just as thin as the RAZR, taller, but a lot narrower. A disappointing fact is that its 65K colors TFT display will sport the same resolution of 176x220 pixels as in the Motorola V600 which was announced back in 2003. The same is used in RAZR models as well. KRZR K1 incorporates the Motorola Screen 3 technology which allows for viewing news and sports scores directly onto the phone's standby screen. The handset would also feature enhanced voice recognition which basically means that it would have speaker independent voice dialing and voice commands.
Motorola RIZR is the first GSM slider of the manufacturer - it has almost the same dimension as KRZR K1 but weighs 115 g. It features the same display along with a microSD card slot, quad-band GSM/GPRS/EDGE support, stereo Bluetooth headset support (A2DP), USB 2.0 and a 2 megapixel camera.
Motorola RAZR V3xx features the so called 3.5G technology offering the one of top data transfer speeds nowadays - HSDPA (High-Speed Downlink Packet Access). It's been quite a while since Motorola has announced high-end handsets. The main TFT display of the phone would offer 262K color definition with a diagonal of 2.2" and a QVGA (240x320 pixels) resolution. Other highlights include a main 1.3 megapixel camera along with a secondary VGA camera and a microSD memory card slot. Besides HSDPA, connectivity features include stereo Bluetooth headset support, GPRS, and EDGE.
Motorola RAZR maxx is the second HSDPA announced by the American manufacturer and it's the most technologically advanced. It would feature the same display as the Motorola RAZR V3xx, a microSD memory card slot and a 2 megapixel camera along with a secondary VGA video calls camera. It would support Bluetooth, GPRS and EDGE. Further on, the handset would offer stylish touch sensitive music keys for operation the built-in MP3 player.
All four Motorola phones announced today are expected to be available in the second half of 2006.
The Motorola marketing department surely did their best to confuse everyone about the names of their newly announced phones so do expect to see all kind of variations floating around the Internet.
d
i have been trying to connect to windows live messenger through my motorola krzr k1,i use it to connect to the internet from my laptop through bluetooth,is there any reason why i cannot do this please e.mail me thank you
?
Its always expected for other brand users to comment really bad right? This is all that I have to say,its not really necessary to have 3mp rather than a 2mp camera? are you going to buy an N80 with a 3mp camera for large amount or a digital camera wi...
d
I can connect my moto RAZR to my computer, add / delete files and ringtones, pictures and games for free. Create my own mp3 ringtone from any song free, and design / download skins / themes wallpapers screen savers and any other thing you can think ...
ADVERTISEMENTS