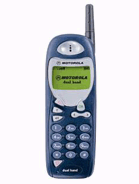 o
i think that motorola m3888 is a good phone.i apreciate that it has a long stand-by time.thanks
M
After having my phone for just 8 months it started to turn itself off an on till the power was gone. Did anyone have that problem?. I would like to know if there is any codes I can use with this phone too.
J
Please forward me the complete manual in English of the M3888 model.Thank you.
Jagjeet.
q
I have to say comparitively speaking this is the worst phone i've had. The features are lacking and trying to unlock the phone is tough but i know, just press 1234.How do u activate the stupid clock?
p
hi! plz let me know how i can activate the clock in my motorola m3888 for free. also can anyone tell me how to make calls without being billed ? thx a lot .
M
This is the best phone ever
but does anyone can tell me the sim unlock code to this phone and how I can activate the clock
Total of 52 user reviews and opinions for Motorola M3888.