We've already seen the first phone powered by Intel's Medfield mobile x86 chipset and now rendered images of Motorola droid phone bring their promise of their own Medfield phone closer to reality.
Motorola announced they will be making an Intel-powered phones at CES and now rumor has it that we'll see the first of those showcased at the next major tech event, the Mobile World Congress.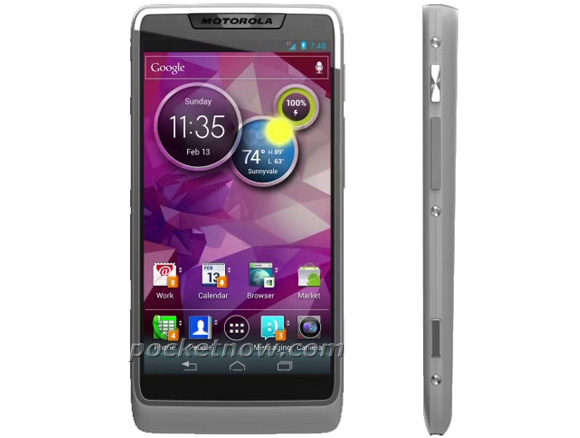 We don't know much about the phone aside that it will be running Android 4.0 Ice Cream Sandwich (that will make it Moto's first phone with ICS out of the box) and that it will have interface customizations by Motorola.
The phone will reportedly have an instant-on feature (something along the lines of HTC's Fast Boot) and its camera will be capable of 15fps burst capture.
The screen has a 16:9 aspect ratio, so 720p resolution is more than likely (it's the native resolution for ICS). Whether it will be a Super AMOLED (like the Motorola RAZR and Galaxy Nexus have) is anyone's guess.
The chipset will most likely be the single-core Intel Atom Z2460, which is the only chipset in the Medfield family right now.
We'll be attending the MWC and we'll make sure to swing by Motorola's booth to learn more about this droid. If the rumors pan out, of course, there's no official word from Moto that they'll be showing this device or that it even exists.
r
looks diffrent and modern,well done moto!
D
For your information there is device with windows 7 and symbian dual boot on atom cpu and here it is: http://www.gsmarena.com/fujitsu_loox_f07c_dualboots_windows_7_and_symbian-news-2651.php and it its battery in 2 hours when it is on windows 7.
D
intel is a beast of cpu makers.intel 1 ghz = arm/exynos/qualcomm/nvidia 's dual core 1ghz cpu. bt eagerly waiting for nvidia tegra 4 wayne quadcore cpus wth direct x 11 + open gl 4.1 supported gpu soc.
ADVERTISEMENTS