Android sidearm
Motorola MILESTONE XT720 review: Android sidearm

8 megapixel camera in focus
The Motorola MILESTONE XT720 packs an 8 megapixel autofocus camera and a xenon flash – a combo unseen on an Android handset so far. Needless to say, it is the key selling point and the performance is of utmost importance.
The camera user interface isn't the best we've seen, neither for its user-friendliness nor the functionality offered. You only get four shortcuts right in the viewfinder to handle scene modes, flash settings, exposure compensation, gallery and shooting modes.
There are plenty of other features but you will have to dig deeper in the menu to find them. Face detection, image stabilization and various resolution settings are some of the available options. You can also set up a custom email address to send all your photos to.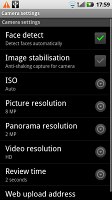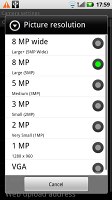 The available advanced settings
There is no touch-focus here, but we won't make fuss – the Milestone XT720 has an excellent shutter key.
What we do miss however is some kind of control over the image quality. You know, things like contrast, sharpness and saturation settings. An alternative metering mode wouldn't go amiss either.
At least when it comes to the image quality, the MILESTONE XT720 does deliver. The images are a bit over-processed, but retain good contrast and warm punchy colors. Just a tad too aggressive noise reduction tends to wipe away some fine detail, but fails to deal with all the noise in low-contrast areas of the frame (look at those noisy skies). Overall however, the image quality is worth it.









Motorola MILESTONE XT720 camera samples
The xenon flash is another disappointment for its limited range. It still does a better job than all LED and double-LEDs out there, but the difference isn't as big as you would've hoped for. Given that you can't use Xenon as a video light, Moto might have been better off sticking to LED here.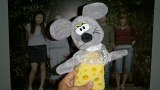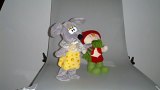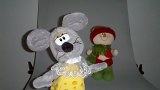 MILESTONE XT720 camera flash samples
Synthetic resolution
We also snapped our resolution chart with the Motorola MILESTONE XT720. You can check out what that test is all about here.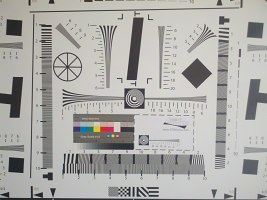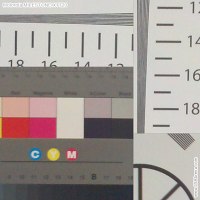 Motorola MILESTONE XT720 resolution chart photo • 100% crops
HD video recording disappoints
While the specs might trick you into thinking that the MILESTONE XT720 is one of the best video recording droids, this is far from the truth.
The interface of the camcorder is similar to the still camera's, except that there are even fewer settings. There is no video light and the only available scene is night mode, but this is by far not the worst of it.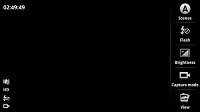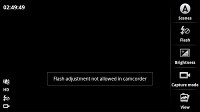 The MILESTONE XT720 in camcorder mode
It's the videos themselves that disappoint the most with their extremely high compression and low framerate. Once again, Motorola have slightly tweaked up color saturation and contrast so everything looks punchier, but the 18-20 fps framerate is really way too low.
And all that resolution lost due to the high compression makes HD recording more of a marketing gimmick than a really useful feature in the case of the Motorola MILESTONE XT720.
Here are a couple 720p video samples uploaded to YouTube:
You can also download a full untouched 720p video sample by the MILESTONE XT720
All-round connectivity
There's a complete connectivity set on the Motorola MILESTONE XT720. For starters you get quad-band GSM/GPRS/EDGE for worldwide roaming and dual-band (1700/2100 MHz) 3G with HSPA. Download speeds will potentially reach 10.2 Mbps, upload maxes out at 5.76 Mbps (theoretically that is).
As to local connectivity, the MILESTONE has USB v2.0, Bluetooth v2.1 with A2DP support and Wi-Fi. The USB interface is standard microUSB, which makes finding a suitable cable a lot easier. And now that they have enabled Bluetooth file transfers, there is very little more to be asked for.
The one thing missing is tethering – we just couldn't get our XT720 to do it. Well the Froyo update should partially make up for that by adding Wi-Fi hotspot capabilities, but having the wired connection as an option certainly doesn't hurt.
Back on the positive track, we have to mention that the built-in microSD card slot can also be used as a data transfer tool. Card-readers are going for peanuts these days so having one around is quite likely and they give some pretty impressive speeds.