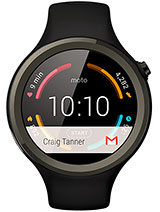 G
most android ware watches have similar battery life... absolutely useless
but, there is devices with much more acceptable numbers... my garmin fenix3 hr works easy for about two weeks with bluetooth on and some gps activity
F
arefief, 28 Jan 2016is it compatible with ios phone? This is not a GSM device, it will not work on any GSM network worldwide.
M358
I think 270$ is a little bit expensive, if anyone bought one and tried it, can you please give us a short review. 😘
b43141
i will buy this one for sure as i like its design and the gps
Total of 12 user reviews and opinions for Motorola Moto 360 Sport (1st gen).