The Motorola Moto 360 is the most sought after smartwatch currently on the market and chances it will remain like this at least until the IFA-announced devices hit the shelves. However the US company is hoping its first smart wearable will retain its popularity even after that and is ready to spice it up a bit to achieve it.
Motorola posted the following picture on its official website, showing the Moto 360 in three different colors – black, silver and gold. The smartwatch is currently only offered in silver and black, so it could either be a mistake by someone on the Motorola design team, or simply a case of someone jumping the gun on an upcoming announcement. The series of events that came after the image was published makes us strongly believe that it's a case of the latter, though.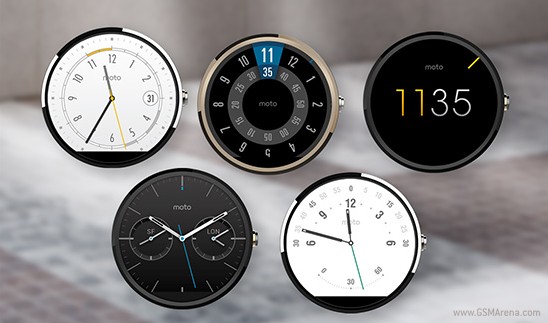 After the guys from Android Police noticed the promo image, they immediately contacted Motorola for comment. The immediate response? The image was replaced with the one you see on the left below. Eventually that one was also replaced with the one on the right, which makes it look as if the gold watch was never there. Quite suspicious isn't it?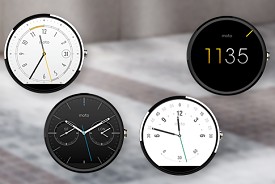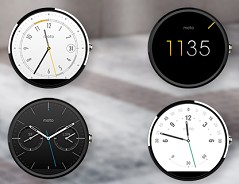 The response that the Motorola representative delivered added even more fuel to the fire:
Although we can't comment on gold specifically, we're always exploring new materials and we intend to provide Moto 360 in a selection of styles in the future.
For those not fluent in PR this roughly translates to: "Oopsie, we really shouldn't have done that. But now that you saw it, please pretend it never happened until we actually announce it". The choice of worlds is particularly interesting – "new materials" rather than "new colors" suggests that we are looking at a gold-made Moto 360. It could either be gold-coated or made out of solid gold, but if it's the latter the price might go sky-high.
Here's hoping we don't have to wait too long until the image resurfaces, along with an official press release from Motorola.
T
I have a friend of mine who wears a samsung smart watch. He's the only person I know to wear one....but each time anyone sees it, they're like, "Hey wow is that a phone-watch? Can I see it? Can you make calls with it? Woah, you can take pi...
t
I don't suppose a "simple life person" would require a smartwatch in the first place.
D
Great product Moto 360. But I think it is too costly for a simple life person.