Final words
When picking our next phone for review, we relatively get down so low on the food chain as we got with the Motorola Moto E. But given Motorola's track record of disrupting the industry, we figured this one deserves a through look. Compared to most of the other smartphones that come our way, it really doesn't have much fighting chance, but we approached this review completely understanding this sort of pricing is almost bottom of the barrel. We expected to be disappointed but we are also curious to see whether Motorola has done it again - much like they did with the highly successful Moto G.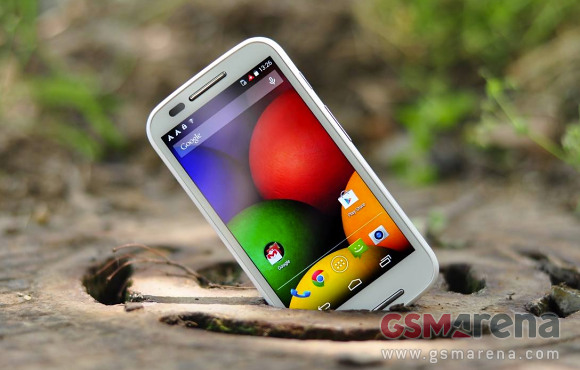 We are happy that the Moto E delivered successfully in so many departments. At around €100 it's unlikely that you would find a smartphone with a 4.3-inch screen with an ambient light sensor and Gorilla Glass 3 protection. You also get the latest Android release and performance of the Snapdragon 200 was quite acceptable. The loudspeaker was one of the loudest we've tested - a rarity among smartphones these days. Battery life was quite good too.
In this sort of setting, it was clear something had to give. And in the case of the Moto E, that's the camera, which is subpar in almost every respect. There are more expensive smartphones out there where front facing cameras make better photos than the one taken by the Moto E's camera.
Motorola Moto E key test findings:
Build quality is poor with the back panel not fitting tightly over the rest of the body
The display quality is OK (average max brightness, high reflectivity, good contrast ratio)
The battery life is above average
The audio quality is decent
We rated the speaker loudness as excellent
The benchmark performance is ok
Camera has very poor still image quality
Video capturing quality is only average
There are hardly any extra video and audio codecs supported out-of-the box
It's now clear. Following in the steps of the successful Moto G, the Moto E successfully brings pure Android experience on modest but sufficient hardware. With official pricing of £89 or about €110 Moto E is a bargain offer you'll have a hard time not taking if you are in the market for an entry level smartphone. You can even opt for a dual-SIM flavor too.
There is little competition in the super low-end smartphone segment, at least not as adequate as the Moto E. We are going to explore a few reasonable offers we were able to find.
The Android-based Nokia X lineup turned out successful in the developing markets and even though the 4" Nokia X, Nokia X+ and the 5" Nokia XL are less powerful than Moto E and lack any Google service integration, they've managed to sell well. Unfortunately, these "low-cost" options cost as much as the Moto E and the limited app catalog isn't helping their case at all.
The Acer Liquid Z4 costs as much as a Moto E too, packs a 4" WVGA display and a dual-core processor. It is dual SIM-enabled, but has half the RAM the Moto E comes with, which will surely affect the overall performance of the Android Jelly Bean OS.
Of course, the best-selling Windows Phone handset ever - Nokia Lumia 520 - will be sticking for a while as a great budget offer. The 4-inch Lumia 520 will be soon refreshed with the latest Windows Phone 8.1 OS, plus its camera offers auto-focus and better 720p video recording. If you don't mind the somewhat limited Windows Phone application store and the lack of proper background capabilities for apps such as Viber, you should definitely check it out. There is also the Lumia 525 that doubles the RAM for even better performance, too.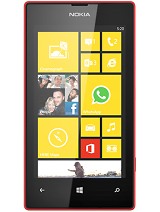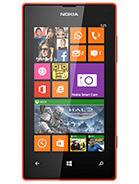 Nokia Lumia 520 • Nokia Lumia 525
HTC Desire 310 and LG L70 both come with 4.5" displays and optional dual-SIM capabilities. The Desire 310 is a quad-core device with 5MP fixed-focus camera and Android Jelly Bean, while the LG L70 runs on the same Snapdragon 200 chipset ticking inside the Moto E, but comes with a 5MP AF cam, IPS display and Android KitKat in charge. You can have either of those at about €30 above the Moto E and we're not sure the price premium is worth it unless you are into the bigger screen.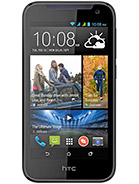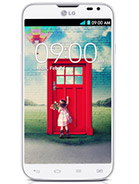 HTC Desire 310 dual sim • LG L70 Dual D325
If you'd like to stretch a bit, an extra €40 would get you the Moto G or an extra €50 would even secure you the Moto G 4G, which has a microSD slot. Either of those upgrades the display to HD, adds two additional CPU cores and comes with very capable camera with great image quality. Naturally, both have been treated with Android KitKat already.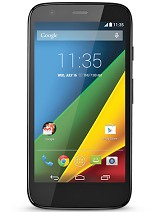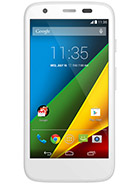 Motorola Moto G • Motorola Moto G 4G
Well, we've come to the end of this review and we are happy to report that the Moto E is another bulls-eye by Motorola. It's not the best performer out there, but it packs a serious punch for the least amount of money. We especially appreciated the unspoiled Android OS and the solid promise for timely updates. The camera is certainly a letdown, but not everybody needs a good camera. What everybody would get with the Moto E is a solid user experience and great bang-for-buck ratio, and that's what counts.