Unboxing the Motorola Moto E
Motorola, just like with Moto G, is selling the Moto E in a very tiny retail box, which houses only the phone itself and a USB cable. There is no wall charger, nor is there a headset. Whatever you need more, you'll have to buy one.
Surely, the retail package contents may vary across different markets. In our case, we picked up our Moto E from a retail store in the UK so our observations would certainly be valid there.
Motorola Moto E 360-degree view
Moto E spreads at 124.8 x 64.8 x 12.3 mm and weighs 142g - a footprint very similar to Moto G's but 5mm shorter and a gram lighter.
Design, build quality and handling
Motorola Moto E utilizes a clean, simplistic design, which however lacks any character whatsoever. That's not to say that the Moto E is bad-looking, but it completely fails to grab the eye in any way.
The entire front is covered by a protective glass, and in Moto E's case that's the latest generation Gorilla Glass 3. The removable rear cover is made of matte plastic which isn't prone to fingerprints and smudges. Finally, there is the glossy framing bordering the display, which might not be helping for a good grip, but surely looks nice.
Unfortunately, the Moto E build quality is not up to very high standards. The different parts and panels just don't seem to fit like it should.
The rear cover, for instance, fails to fit the middle section properly and not only does it give out the occasional creaks and squeaks, but it also moves around a bit under your fingers, which leaves a rather cheap impression.
A second example is the way the middle section fits around the front panel. The translucent frame we mentioned earlier has a substantial gap that allows all sorts of dirt and whatnot enter there and it's a rather tricky place to clean.
Being a 4.3" smartphone puts the Moto E in the pocket-friendly category. It isn't thick or bulky, yet its 142 grams would have made for a solid feel in your hand if it wasn't for the flimsy battery cover.
Display
The Motorola Moto e 4.3" qHD display isn't among the best units we've seen, but it's certainly among the best this price bracket has on offer. The pixel density is 256ppi, which qualifies for a sharp enough images and easy reading.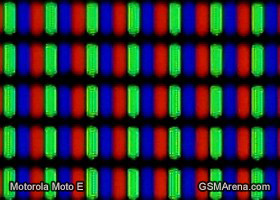 The display is not that bright, but to make matters worse, its surface is very reflective.
The viewing angles are good with acceptable color washing, though the reflectiveness gets in the way of the viewing experience if you are not looking at the screen straight on.
Disregarding the effect of the reflectivity, the display panel's contrast turned out very good thanks to the deep blacks.
Display test
50% brightness
100% brightness
Black, cd/m2
White, cd/m2
Contrast ratio
Black, cd/m2
White, cd/m2
Contrast ratio
Motorola Moto E
0.27
278
1024
0.49
522
1062
Nokia X
0.39
247
637
0.64
461
715
Nokia XL
0.33
251
752
0.53
466
874
Nokia Lumia 520
-
-
-
0.51
422
834
Motorola Moto G
0.35
315
906
0.57
550
967
Sony Xperia C
0.18
151
842
0.66
639
962
Sony Xperia M2
0.33
325
989
0.64
643
1000
As we said, the Moto E's display is very reflective and you'll have a hard time in those sunny days.
Sunlight contrast ratio
Nokia 808 PureView
4.698
Apple iPhone 5
3.997
Samsung Galaxy Note 3
3.997
Samsung Galaxy S5
3.549
Samsung I9300 Galaxy S III
3.419
Nokia Lumia 925
3.402
Samsung I9505 Galaxy S4
3.352
Samsung Omnia W
3.301
Samsung Galaxy S
3.155
Samsung Galaxy S4 mini
3.127
Samsung Galaxy S4 zoom
3.118
Nokia N9
3.069
Samsung Galaxy Note
2.970
Sony Xperia Z1
2.950
HTC One S
2.901
BlackBerry Q10
2.856
Samsung Galaxy S II
2.832
Samsung Galaxy S II Plus
2.801
BlackBerry Z30
2.790
Huawei Ascend P1
2.655
Sony Xperia ZR
2.672
Nokia Lumia 900
2.562
HTC One Max
2.537
Nokia Lumia 720
2.512
HTC One
2.504
Motorola Moto G
2.477
Sony Xperia Z
2.462
Samsung Galaxy S III mini
2.422
HTC One (M8)
2.371
Motorola RAZR i
2.366
Samsung Galaxy Note II
2.307
Oppo Find 7a
2.279
Apple iPhone 4S
2.269
HTC Desire 600 dual sim
2.262
LG Nexus 5
2.228
HTC One X
2.158
Nokia N8
2.144
Oppo Find 5
2.088
BlackBerry Z10
2.051
Apple iPhone 4
2.016
HTC One mini
2.003
LG G2
1.976
Sony Ericsson Xperia ray
1.955
Sony Xperia Z2
1.944
Samsung Galaxy Camera
1.938
LG G Pro 2
1.922
HTC Butterfly
1.873
Huawei Ascend P6
1.865
LG G3
1.820
Sony Xperia V
1.792
Sony Xperia U
1.758
Meizu MX3
1.754
Sony Xperia T2 Ultra
1.740
LG Optimus 4X HD
1.691
HTC One V
1.685
BlackBerry Q5
1.682
LG Optimus Vu
1.680
LG Optimus GJ
1.666
HTC Desire V
1.646
Samsung Galaxy Ace 3
1.622
Sony Xperia Z Ultra
1.578
Samsung Galaxy Core
1.563
LG Optimus G Pro
1.552
Motorola Moto E
1.545
LG Optimus 3D
1.542
Samsung Galaxy Core LTE
1.542
Nokia Asha 302
1.537
Sony Xperia M
1.473
Nokia Lumia 610
1.432
Samsung Galaxy Grand Neo
1.393
Gigabyte GSmart G1355
1.361
Samsung Galaxy Grand
1.321
HTC Desire C
1.300
Nokia Asha 501
1.270
LG Optimus L7
1.269
LG Optimus L9
1.227
Meizu MX
1.221
Sony Xperia E dual
1.203
Samsung Galaxy Pocket
1.180
Sony Xperia tipo
1.166
Samsung Galaxy mini 2
1.114