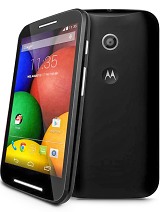 m782
frend can anyone tell me one thing ..in moto e does come default file manager?? or we need to download file manager from google store ..im asking this bcoz in kitkat os restriction on sd card read or writing acess .?? can u pls take a look on sd card create folder or rename folder or delete folder..or move file sd to phone memory or ph memory to sd.. can u do this task?
?
hello.is there battery problem is faced by everyone who purchase it?

a
HI Guys,
After looking at the comments of moto E hands on I finally came to a conclusion that not to go for moto instead of that try for Samsung basic set or nokia set ... so
basic set is the best set in which all companies allow mob insided the office,,
what u say guys...... try it. and enjoy....
old is gold....
M2
Got the phone few days ago. Moto E functioning smooth and am not seeing any lag while playing games and multitasking.. great premium look . but i did notice a back cover issue. Back panel is moving ever when we held it. its also a general problem of Moto G and Moto E. its a defect of the back panel and i did contact Motorola and they send a new back cover as a replacement.
M
Hi,
Dont purchase this mobile battery problem,I order it phone at 14-may-2014 and I got delivery at 16-may-2014 Today 22-may-2014 it give me problem my mobile restart every time not start normaly I call to the customer center they mail me how to solve it but not working
The mobile battery getting heated after calling or using any apps such as whatsapp for long time And one more important when you purchase it they not give you the usb cabel and phone dont have mass storage option on it

Please don't buy this mobile so bad experiance for me Try for micromax
?
nilesh gajbhiye, 22 May 2014unable to send sms, because i can not find message centre settings. can any one help.same problem with me too....
n
unable to send sms, because i can not find message centre settings.

can any one help.
Total of 850 user reviews and opinions for Motorola Moto E.