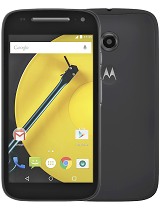 ?
If not priced cheap enough, this couldn't top even zenfone 5, let alone zenfone 2, when it comes to value for money. It'll just be a matter of availability. I call wrong move, Moto. Specs not deserving to succeed the first Moto E that did a great job during its time.
D
As a almost cheap phone is not so bad though in this price range there are a lot of phones with 720P display resolution
D
will be better if it has snapdragon 410 instead of 400, 2 mp front cam instead of VGA, 128 GB SD card support.
M
Front facing camera & SD card its is a winner all way with Lollipop pure
?
Should have 720p resolution and a 8 mp rear camera with led flash....
H11111
Best value for money in Europe.
Total of 2012 user reviews and opinions for Motorola Moto E (2nd gen).