Motorola just made the second generation of Moto E official – the screen size grew to 4.5", the chipset moved to a 64-bit one and also got 4G LTE connectivity. Oh, and the 5MP camera can now record 720p video and there's a VGA front-facing camera. There's no mention of a dual-SIM version yet though.
The Moto E (2015) is slightly bigger, but practically the same thickness and weight as its predecessor. The screen is still at qHD (540 x 960px), which means it's not very sharp, at least it's an IPS LCD with Gorilla Glass 3 and a anti-smudge coating.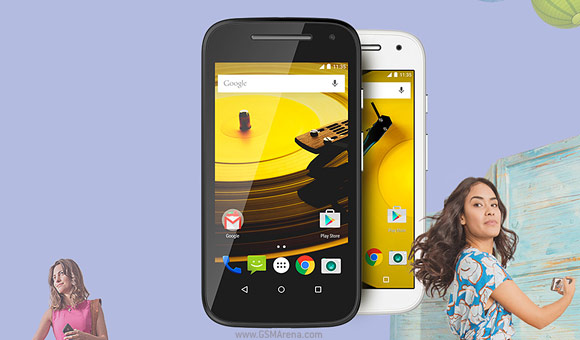 The chipset is a Snapdragon 410 – a 64-bit quad-core Cortex-A53 at 1.2GHz with 1GB of RAM and Adreno 306 GPU. That's for the 4G LTE version though, the 3G version will arrive with an old-school Snapdragon 200, which goes back to 32-bit Cortex-A7 cores and the slower Adreno 302 GPU.
The phone, of course, runs Android 5.0 Lollipop, which looks unmodified so it should get updates quickly, despite the change of ownership. There's 8GB of built-in storage (double what the 1st gen had) and a microSD card slot.
The main camera is a 5MP shooter with an f/2.2 aperture and can record 720p video at 30fps. There are two microphones on the handset for stereo audio. There's a VGA camera on the front, not exactly a selfie dream but better than nothing (which is what the original model has).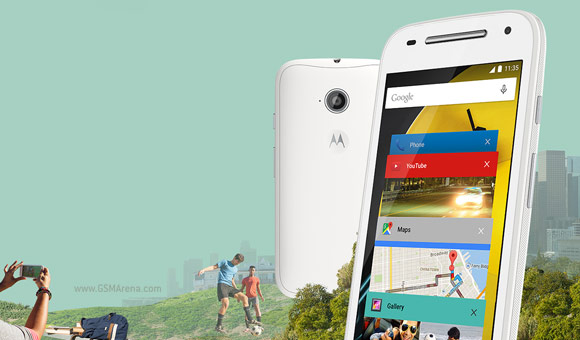 The Motorola Moto E (2015) has the same water resistance coating used on its bigger bros and a larger 2,390mAh battery (up from 1,980mAh).
The phone costs $150 and is available in Black and White. You can also get a Motorola Band in Golden Yellow, Turquoise, Blue, Raspberry, Purple, Red if you want to add a touch of color. The 3G version will presumably cost less, though pricing isn't available yet. There's nothing on a dual-SIM version either (perhaps that will be the 3G version?).
A
Also, for those of you bitching about the flash and screen resolution - the screen's 240ppi, anything above 200 is OK in my book. Not 9000ppi like the flagships, but guess what? This isn't a bloody flaghip phone. There are apps that will set yo...
A
The front facing camera? This is the Snapchat generation, after all. The larger screen is a blessing.
r
moto E 2015 contain one main disadvantage is without flash