Controls
Above the Motorola Moto G display you get an earpiece, the front-facing camera, as well as the ambient light and proximity sensors.


Some sensors join the earpiece and the front-facing camera
With the main controls on the actual screen, the space below the display is completely bare. The same goes for the left side of the Moto G.
The mouthpiece has been moved to the bottom, next to the microUSB port. The port has support for USB host, so if you get yourself an extra adapter needed, you can attach various peripherals like keyboards and mice as well as USB memory sticks. However it has no support for MHL or Slimport, meaning pairing with an HDTV isn't an option (unless the HDTV supports wireless streaming of content).



The primary microphone is next to the microUSB port at the bottom
On the right we see the only two hardware controls on the Motorola Moto G. The power key sits slightly above the volume rocker and while both keys are a bit too thin for our liking, they make up for it with nicely solid press.



There's just two hardware keys on board
The 3.5mm audio jack is located in the middle of the Moto G's top, where it's joined by the secondary noise-cancelling microphone.



The secondary microphone and the 3.5mm audio jack
The 5MP camera lens has the loudspeaker on its side at the back of the smartphone, while the LED flash sits underneath it. A Motorola logo completes the picture here.
Opening the back panel is a bit of a hassle, involving pushing you fingernail in the microUSB slot and pulling with a reasonable amount of force until you undo the stubs one by one. It does feel like the cover is about to break at times, but after several changes it's still in one piece, so the problem was perhaps mostly in our heads.
Underneath the cover you only get the microSIM slot. Disappointingly enough, the battery isn't user replaceable and there's no microSD card slot. We could live with the first of those shortcomings but the lack of expandable storage on a device where 16GB is the most you can get out of box can be quite the deal breaker for many.



Removing the battery cover doesn't grant you access to the battery
Display
The Motorola Moto G 4.5" 720p display is one of its most potent weapons in the fight for survival in the overcrowded mid-range. Having a pixel density og 326ppi, the IPS LCD matches the Apple Retina screens and is by far the sharpest display in the price range.
It's not just the pixel count either - the Moto G screen also impresses with very good contrast and nice color rendering. Viewing angles are also very wide with everything remaining perfectly legible even when you go to extremes. There is some color shift, but even so the display is way better than we've come to expect in this price range.
Our only gripe is the white balance, which is a bit on the cold side, but that's nitpicking really.
Display test
50% brightness
100% brightness
Black, cd/m2
White, cd/m2
Contrast ratio
Black, cd/m2
White, cd/m2
Contrast ratio
Motorola Moto G
0.35
315
906
0.57
550
967
Sony Xperia C
0.18
151
842
0.66
639
962
Oppo R819
0.56
607
1078
0.62
754
1210
Samsung I9082 Galaxy Grand
0.37
382
1040
0.62
586
948
Huawei Ascend P6
0.14
136
986
0.62
670
1080
Apple iPhone 5
0.13
200
1490
0.48
640
1320
The front display glass isn't too reflective either, which means the Motorola Moto G screen also does pretty well in direct sunlight. An admirable overall performance indeed.
Sunlight contrast ratio
Nokia 808 PureView
4.698
Apple iPhone 5
3.997
Samsung Galaxy Note 3
3.997
Samsung I9300 Galaxy S III
3.419
Nokia Lumia 925
3.402
Samsung I9505 Galaxy S4
3.352
Samsung Omnia W
3.301
Samsung Galaxy S
3.155
Samsung Galaxy S4 mini
3.127
Samsung Galaxy S4 zoom
3.118
Nokia N9
3.069
Samsung Galaxy Note
2.970
Sony Xperia Z1
2.950
HTC One S
2.901
BlackBerry Q10
2.856
Samsung Galaxy S II
2.832
Samsung Galaxy S II Plus
2.801
BlackBerry Z30
2.790
Huawei Ascend P1
2.655
Sony Xperia ZR
2.672
Nokia Lumia 900
2.562
HTC One Max
2.537
Nokia Lumia 720
2.512
HTC One
2.504
Motorola Moto G
2.477
Sony Xperia Z
2.462
Samsung Galaxy S III mini
2.422
Motorola RAZR i
2.366
Samsung Galaxy Note II
2.307
Apple iPhone 4S
2.269
HTC Desire 600 dual sim
2.262
LG Nexus 5
2.228
HTC One X
2.158
Nokia N8
2.144
Oppo Find 5
2.088
BlackBerry Z10
2.051
Apple iPhone 4
2.016
HTC One mini
2.003
LG G2
1.976
Sony Ericsson Xperia ray
1.955
Samsung Galaxy Camera
1.938
HTC Butterfly
1.873
Huawei Ascend P6
1.865
Sony Xperia V
1.792
Sony Xperia U
1.758
Meizu MX3
1.754
LG Optimus 4X HD
1.691
HTC One V
1.685
BlackBerry Q5
1.682
LG Optimus Vu
1.680
LG Optimus GJ
1.666
HTC Desire V
1.646
Sony Xperia Z Ultra
1.578
Samsung Galaxy Core
1.563
LG Optimus G Pro
1.552
LG Optimus 3D
1.542
Nokia Asha 302
1.537
Sony Xperia M
1.473
Nokia Lumia 610
1.432
Gigabyte GSmart G1355
1.361
HTC Desire C
1.300
Sony Xperia C
1.283
Nokia Asha 501
1.270
LG Optimus L7
1.269
LG Optimus L9
1.227
Meizu MX
1.221
Sony Xperia E dual
1.203
Samsung Galaxy Pocket
1.180
Sony Xperia tipo
1.166
Samsung Galaxy mini 2
1.114
Battery Life
The Moto G features a 2,070 mAh battery, but Motorola didn't specify how long it is expected to last. The capacity isn't too big, but given the efficient chipset and relatively small screen we were quite optimistic about its prospects.
The Moto G duly delivered and posted an endurance score of 54, meaning it will last for more than two full days if you do an hour of calls, an hour of video watching and an hour of web browsing each day. The achievement is also much better than what the Moto X managed, but that one had the always on voice commands eating into its endurance.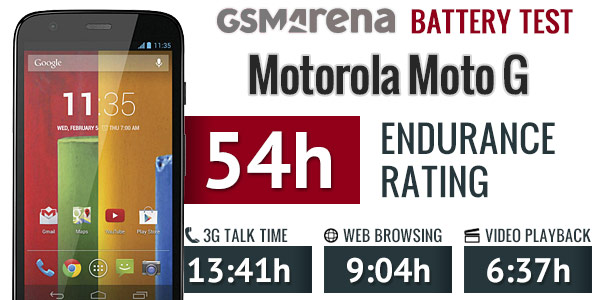 We should even give the Motorola Moto G a few extra points here as it's notably brighter than most of its competitors at their respective 50% settings. You can learn more about our testing procedures here.