Software
The Moto G5 runs on Android 7.0 Nougat with Motorola's skin on top. Motorola's skin was praised back in the day for practically being stock Android with next to no bloatware or UI customizations, but things have changed over the years.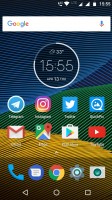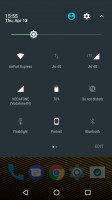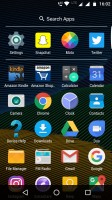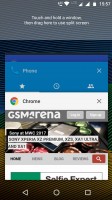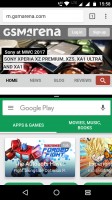 The UI is close to stock Android
The launcher is Motorola's own and features a swipe up gesture to get from the homescreen to the app drawer. The app drawer has a row of frequently used apps at the top like the Google Now Launcher but unlike Google's launcher it cannot be disabled. Similarly, the homescreen has a left panel for Google Now but even that can't be disabled. Fortunately, it's easy to install another launcher.
The phone comes with some bloatware, depending upon where you buy it. In India, the phone is sold exclusively through Amazon, so it comes with the Amazon, Kindle, and Prime apps pre-installed, and none of these can be removed. There is even an Amazon accounts option in the main Settings app.
There is some useful stuff here, like the Moto Actions and Moto Display. Moto Actions has your now familiar stuff, like the chop twice for flashlight or twist for camera gestures, along with the usual pick up phone to stop ringing and flip for do not disturb. A new setting is one button nav. With this you can turn the fingerprint sensor into a gesture pad for navigating your phone. You can press once to go home, press and hold to turn off the display, press and hold longer for Google Assistant, swipe left on the sensor to go back and swipe right to open recent apps. Once this feature is enabled, the on-screen controls are hidden and you can reclaim your entire screen real estate. It's an interesting concept and if you give yourself some time to get used to it you might end up liking it.
Moto Display is also a useful feature. It lights up the screen whenever there are unseen notifications. It will also wake up the screen when you pick up the phone and if there are pending notifications. The Moto Display screen has been updated and now shows a larger clock. Unfortunately, you can't leave it on all the time. Also, even when lit the display is still quite dark and can be hard to see in a brightly lit room. Unlike before, if you disable Moto Display you don't get the option to use Android's Ambient Display mode. There is also no LED indicator light if you're into that.
Performance
The Moto G5 runs on a Qualcomm Snapdragon 430 chipset with 3GB of RAM. In terms of performance, the G5 is somewhat of a disappointment. The Snapdragon 430 is starting to show its age and the phone often struggles to keep up with modern applications. Sure, if all you intend to do on your phone is use text messaging apps or make phone calls then you should be perfectly happy. But load something like Snapchat and the performance falls apart quickly, with the phone struggling to maintain a decent frame rate while recording videos with one of the app's AR filters. The result is choppy videos that will look embarrassingly bad on your friend's device. Even the Twitter app stutters badly while scrolling and if you ever open up Chrome then you will notice that's not a walk in the park either. The phone also refused to play 60fps videos in YouTube and only played them in 30fps.
Fortunately, gaming isn't too bad. Except for a few games at their highest visual settings, the G5 ran most 3D games fines without stuttering. Unfortunately, the phone does tend to get pretty warm near the camera on the back. This doesn't just happen in games but also while using some apps (like the aforementioned Snapchat).
The multimedia performance is decent. The loudspeaker on the front can get fairly loud and being right on the front also makes it sound clearer. Unfortunately, the audio quality isn't the greatest and at the highest volume it can get a bit shrill. Audio output through the headphones is good, though.
The fingerprint sensor works very well. It is fast and accurate with very low failure rate. You can save up to five prints at a time.