12 million dual pixels, 5 million regular ones
The Moto G6 Plus comes with a 12MP+5MP camera combo on its back. Only one of these can be used on its own, the 12MP one, while the 5MP module is used for depth detection (read: portrait shots with defocused backgrounds).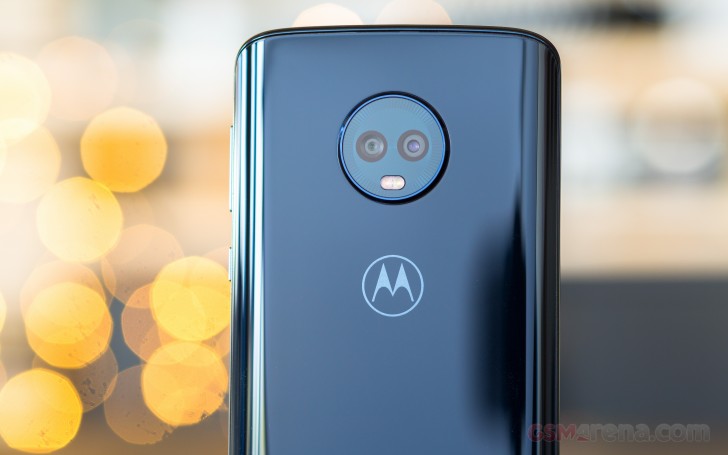 The 12MP cam has large 1.4µm pixels, and if you're associating these numbers with dual pixel autofocus, you're right - the G6 Plus has it. The lens has a similarly familiar-sounding f/1.7 aperture. All of this carries a very Galaxy S7/S8 vibe indeed. Not quite - the OIS is missing. There is, on the other hand, a dual tone flash unlike Samsung's traditional single LED setups. Meanwhile, the 5MP camera's lens has an f/2.2 aperture. Though how and why that matters is unclear.
Anyway, the camera app is one of the software bits that are Motorola's own instead of Google's, and it's been slightly reworked since the last time we had a Moto phone at the office. Now you get a swipe action for switching between stills, video, and assorted modes (tapping on the icons works too). To get access to the settings, you need to go to those extra modes, which is a little counter-intuitive, but not a huge deal.
Professional mode is now called (more fittingly) Manual and is accessed from a toggle in the viewfinder - not the extra modes. It lets you dial in your own ISO, shutter speed, or exposure compensation, as well as pick a white balance preset and manually adjust focus - all pretty standard. One thing's neat - you can set exposure compensation in both 1/3 and 1/2 stops - that's some next level exposure compensation from a phone.
Spot color is one of the proprietary modes - it lets you capture only a certain color from the spectrum, leaving the rest of the photo black and white. A slider allows you to select how close the colors in the frame need to be to the one you picked so they don't turn monochrome.
Cutout mode can isolate a subject based on the depth detection and superimpose it on a different photo, while Text scanner should be able to recognize text from a photo and present it to you in a text editor.
There's also a couple of recognition features, one for objects, and another one - for landmarks. Point the camera at something, and the Moto G6 Plus will try to recognize it and pull relevant info off the internet showing it to you in the form of cards. As you can imagine, it's far from infallible, and it's not really gotten much better since the last time we played with it on the Moto X4.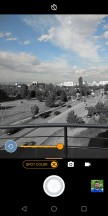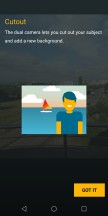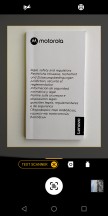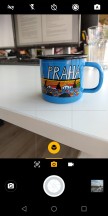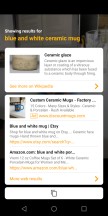 Spot color • Cutout • Text scanner • Object recognition
Image quality
First off, apparently we got super-lucky (not) and our review unit has misaligned optics that result in image softness pretty much anywhere outside the middle of the frame. We noticed it both in stills and video, and it's quite pronounced. Well, it happens, such is life. Two points to make: 1. don't judge the corners of the samples too harshly, and 2. (as with any other piece of tech) make sure you have proper warranty and return options in case this happens to you, though we suspect it's probably an issue specific to our review sample only.
Daylight images from the Moto G6 Plus turn out quite alright, though we wouldn't call them spectacular. Dynamic range is pretty narrow - the clipped shell of the snail along with black areas in the shadows is quite revealing. There's also quite a bit of noise. Then again, detail is decent and we're liking the G6's colors.
Don't forget to check out how the Moto G6 Plus fares against the competition in our Photo compare tool. We've picked the Nokia 6 (2018) and the Xiaomi Redmi Note 5 to get you started, but it's a pretty rich database of tested phones to choose from.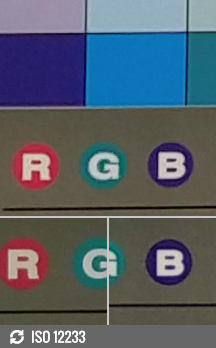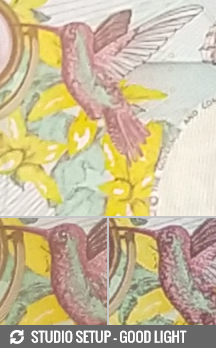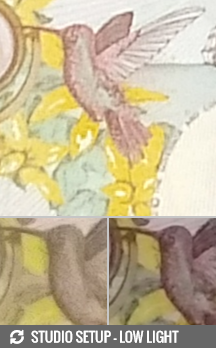 Normal camera: Motorola Moto G6 Plus against the Pixel 2 XL and the iPhone X in our Photo compare tool
HDR mode does make a difference on the Moto G6 Plus. Shot to shot times do increase, and if you press the shutter again while the phone is still processing the previous image, you may end up with missed focus.
That aside, HDR shots come out livelier, with better developed shadows and lower midtones and some detail recovered from the highlights.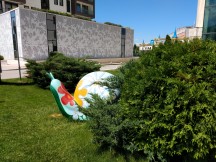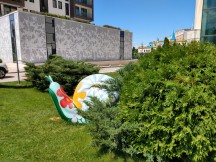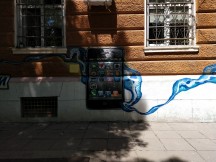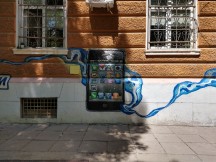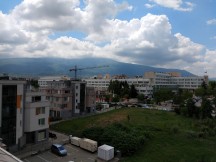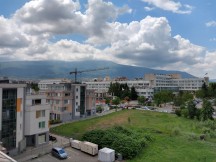 HDR: Off • On • Off • On • Off • On
The Moto G6 Plus is capable of some fairly good low-light photos with nice color rendition and decent detail. The somewhat heavy-handed noise reduction does rob you of some fine retail if you look up close, but nothing too dramatic.
Panoramas aren't all that good on the Moto G6 Plus. Sure, stitching is alright, and there's no weird exposure variations, but there's just not a whole lot of detail in the 1800px tall images.
The Moto G6 Plus need to justify its second camera somehow, and that's where portraits come into play. It does a pretty good job separating mug from background, with the usual caveat that hairstyles better have a clear outline. The amount of background blur can be adjusted, but we just pushed that slider all the way to the max, and the results are quite convincing.
The Moto G6 Plus did fail our aloe plant torture test, which is admittedly the default outcome of said test, but all in all it didn't feel too happy when dealing with non-human subjects.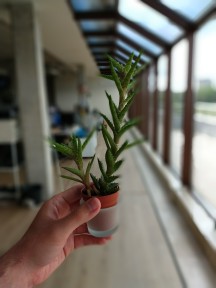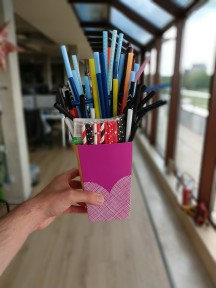 Portrait mode on non-human subjects
Selfies
For selfies, the Moto G6 Plus relies on an 8MP f/2.2 camera, that sadly lacks autofocus. But it does have a flash. The first shot is from our other studio that is specifically painted black to minimize reflections, and is effectively pitch black with the lights off. Dude sure was happy to see some light.
The second shot is from a slightly more human-friendly location, which was still very dim lit, while the third shot is the from the same spot but without the flash. The gist is that having a front-facing flash can make a world of a difference in extreme conditions.
You can also take selfies in daylight - actually, do take selfies mostly in daylight, if at all. The G6 Plus captures decent detail and appears to apply selective sharpening around facial hair, making things look crisper. Skin tones are pretty pleasing too.
Video
The Moto G6 Plus can record video up to 2160p@30fps, while 1080p@60fps and 30fps go without saying. There's electronic stabilization in 1080p@30fps, but not the other modes.
4K footage is treated to a generous 51Mbps bit rate, while 1080p footage gets 17Mbps, be it 30fps (pretty much standard) or 60fps (a bit low). Audio is recorded in stereo at 128kbps in all modes.
Lens issues aside, 4K footage is sharp and detailed, with no noise to speak of. Colors are vivid and combined with the high contrast make the videos pop.
1080p/30fps clips are similarly pleasing, and are in fact among the more detailed ones we've seen. The same can't be said of 1080p/60fps videos, which are noticeably softer and less detailed, plus the focus tends to hunt, unlike in other modes.
Unfortunately, sound quality is rather poor, and that's not just because of the wind.
Stabilization, while only available in 1080p/30fps, proved very effective in our walking and shooting test. Panning is also handled well, with no abrupt motions at the beginning and end when algorithms often fail and try to catch up. The one downside is that stabilized videos are a little softer than non-stabilized ones.
For those of you who want to pixel peep on your own computers, we've uploaded short samples straight out of the phone (2160, 1080p@30, 1080p@60).
Another kind of pixel peeping can take place inside our Video compare tool. We've pre-selected the Nokia 6 (2018) and the Xiaomi Redmi Note 5, but feel free to play around with other phones we've tested too.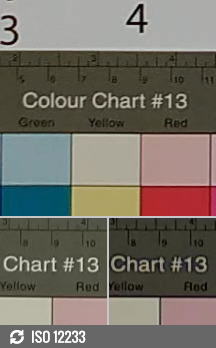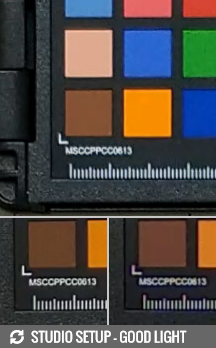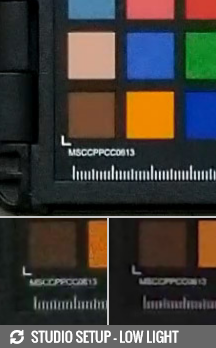 Motorola Moto G6 Plus against the Nokia 6 (2018) and the Xiaomi Redmi Note 5 in our Video compare tool