Google Now taken another step up
Google Now was first introduced back in Jelly Bean 4.1 and is definitely one of the most interesting additions in the OS. Simply put, it's Google's version of a personal assistant. Google Now is in the same neck of the woods as Apple's Siri, but it learns constantly from your daily routine.
It's accessed by holding the home button and gives you short overview of information it believes is relevant to you right now in the form of cards. Going to work in the morning? Google Now knows this and lets you know there's a big traffic jam on your usual way to the office, so it offers you a re-route.
It can interpret a lot of things from your search history as well. If you've been searching for, let's say, your favorite football team, Google Now will prepare a card showing you the next match the team is playing and will provide you score updates once the game begins.
In Jelly Bean 4.2.2, Google Now has become even smarter and, if you allow it, can scan your email for upcoming flights, deliveries or restaurant reservations and let you know when they are due. There are also numerous kinds of cards like birthdays (yours and those of your contacts) and what distance you've walked in a particular month. The last one could definitely feel creepy for some users, but it's easily turned off from the Google Now settings menu. The latest addition to Google Now cards are TV and Offers.
Google has also integrated Voice Actions. They can handle stuff like sending messages (SMS or email), initiating a voice call, asking for directions, taking a note or opening a site. Google Now can also launch apps, check and manage your calendar and look for nearby places of interest and stuff like movie openings in theaters.
However, Motorola wasn't happy with just that and has taken Google Now to a whole new level with the Moto X. Dubbed Touchless Control, the service is now always active and can be activated without even unlocking the smartphone - it is done by saying "OK, Google Now." That is enabled by a dedicated contextual computing core which has been developed by Motorola.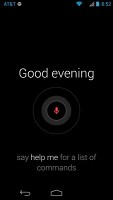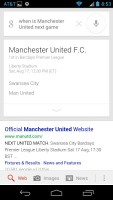 Moto X offers a new dimension of Google Now functionality
With a duo of noise cancelling microphones on board, the voice-activated Google Now worked like a charm even in noisy environments. Before you start you set teach the service to recognize only your voice, so having someone else activate it with the universal command is usually impossible.
Touchless Control is optional. It can be enabled and disabled from the Moto X's settings.
One big advantage of Google Now is that the voice typing functionality doesn't require an internet connection to work. You can enter text by speaking anywhere you can use the on-screen keyboard - be it the Messaging app or a note taking app - without the need for a data connection as long as you have pre-downloaded the needed language packs (and those only take about 20-25MB of your storage per pack).
Making voice typing available offline also made it faster as it's not dependent on your connection. What's even more impressive is that the transition hasn't cost it anything in terms of accuracy.
Synthetic benchmarks
Motorola likes to call the Moto X chipset X8 and claims that it is a custom-developed 8-core unit. That's hugely misleading though, since as far as actual computing power is concerned this is a very standard S4 Pro chipset with two Krait cores clocked at 1.7GHz, 2GB RAM and the Adreno 320 GPU.
Single-core performance as measured by benchmarks is about what you can expect - it's the same as the Sony Xperia SP (which uses the same chipset) and about 30% slower than Snapdragon 600-powered smartphones .
Benchmark Pi
Lower is better
Samsung Galaxy S4 (Octa)
132
Samsung Galaxy S4 (S600)
132
LG Optimus G Pro
147
HTC One
151
Sony Xperia SP
184
Motorola Moto X
192
Sony Xperia Z
264
HTC Butterfly
266
Oppo Find 5
267
HTC One X+
280
LG Optimus G
285
Samsung Galaxy Note II
305
HTC One X (Tegra 3)
330
LG Optimus 4X HD
350
Samsung Galaxy S III
359
Meizu MX 4-core
362
Nexus 4
431
Multi-threaded performance is a little over a half of the Snapdragon 600 performance, according to Linpack and that's hardly surpsing to anyone.
Linpack
Higher is better
Samsung Galaxy S4 (Octa)
791
Samsung Galaxy S4 (S600)
788
LG Optimus G Pro
743
HTC One
646
Sony Xperia Z
630
HTC Butterfly
624
LG Optimus G
608
Oppo Find 5
593
Motorola Moto X
391
Sony Xperia SP
348
Samsung Galaxy Note II
214.3
Nexus 4
213.5
Meizu MX 4-core
189.1
HTC One X+
177.7
Samsung Galaxy S III
175.5
HTC One X
160.9
LG Optimus 4X HD
141.5
In the Geekbench 2 processing and memory speed test the Moto X was slightly closer to the Snapdragon S600 elite competition - 22% slower than HTC One and 34% slower than the Galaxy S4 - not quite what you'd expect from a smartphone more expensive than both of those.
Geekbench 2
Higher is better
Samsung Galaxy S4 (Octa)
3324
Samsung Galaxy S4 (S600)
3227
LG Optimus G Pro
3040
HTC One
2708
Sony Xperia Z
2173
Motorola Moto X
2123
Sony Xperia SP
2105
HTC Butterfly
2143
Samsung Galaxy S III
1845
LG Optimus G
1723
LG Optimus 4X HD
1661
iPhone 5
1601
Compound benchmarks like AnTuTu and Quadrant tell a very similar story - the Moto X is a snappy device but some way off the Snapdragon 600 chipsets.
AnTuTu
Higher is better
Samsung Galaxy S4 (Octa)
26275
Samsung Galaxy S4 (S600)
24716
HTC One
22678
Sony Xperia Z
20794
LG Optimus G Pro
20056
HTC Butterfly
19513
Motorola Moto X
19031
Sony Xperia SP
15874
Samsung Galaxy S III
15547
Oppo Find 5
15167
Quadrant
Higher is better
Samsung Galaxy S4 (Octa)
12446
Samsung Galaxy S4 (S600)
12376
LG Optimus G Pro
12105
HTC One
11746
Motorola Moto X
9018
Sony Xperia Z
8075
Sony Xperia SP
7897
HTC One X+
7632
LG Optimus G
7439
Oppo Find 5
7111
HTC One X
5952
Samsung Galaxy Note II
5916
Samsung Galaxy S III
5450
Meizu MX 4-core
5170
Nexus 4
4567
GPU performance is the strongest suit for the Moto X - it has a quad-core Adreno 320 GPU, which is the same as the one used in the current crop of 1080p flagships. The 1080p offscreen performance turned out about with the top dogs and when you consider that the Moto X only has to push 720p resolution to its screen, you can see that it will handle every game with unrivaled smoothness.
GLBenchmark 2.5 Egypt (1080p off-screen)
Higher is better
Motorola Moto X
43
Samsung Galaxy S4 (Octa)
43
Samsung Galaxy S4 (S600)
41
HTC One
37
Oppo Find 5
32
Google Nexus 4
32
Sony Xperia SP
31
Sony Xperia Z
31
Sony Xperia ZL
31
Sony Xperia SP
31
Apple iPhone 5
30
LG Optimus G Pro
30
LG Optimus G
21
Samsung Galaxy Note II
17
HTC One X
11
GLBenchmark 2.7 T-Rex (1080p off-screen)
Higher is better
Samsung I9505 Galaxy S4
17.1
Samsung I9500 Galaxy S4
17.1
Apple iPad 4
16.8
Motorola Moto X
16
Samsung Galaxy S4 Active
16
Samsung Galaxy S4 GPE
15
HTC One GPE
13.9
LG Optimus G
13.9
Sony Xperia Z
13.5
Sony Xperia Tablet Z
13
Sony Xperia ZR
13
Sony Xperia ZL
12.8
Samsung Galaxy Note II
4.9
Epic Citadel
Higher is better
Samsung Galaxy S4 (Octa)
59.8
Motorola Moto X
59.6
Sony Xperia SP
58.0
Samsung Galaxy S4 (S600)
57.1
HTC One
56.4
Sony Xperia Z
55.6
LG Optimus G Pro
54.2
Nexus 4
53.9
Asus Padfone 2
53.4
LG Optimus G
52.6
Samsung Galaxy S III
41.3
Oppo Find 5
38.6
Web browser performance turned out excellent too. JavaScript performance is about average (when compared against 2013 flagships), but the Vellamo test yielded an excellent score.
SunSpider
Lower is better
Samsung Galaxy S4 (Octa)
804
Samsung Galaxy S4 (S600)
810
Samsung Ativ S
891
Apple iPhone 5
915
Nokia Lumia 920
910
Samsung Galaxy Note II
972
HTC One X+
1001
LG Optimus G Pro
1011
Motorola Moto X
1050
Motorola RAZR i XT890
1059
Sony Xperia SP
1116
HTC One
1124
Samsung Galaxy S III
1192
Meizu MX 4-core
1312
Sony Xperia Z
1336
LG Optimus G
1353
HTC Butterfly
1433
Nexus 4
1971
Oppo Find 5
2045
Vellamo
Higher is better
Sony Xperia SP
2497
Motorola Moto X
2446
Samsung Galaxy Note II
2418
HTC One
2382
Sony Xperia Z
2189
HTC One X (Tegra 3)
2078
Samsung Galaxy S4 (S600)
2060
Samsung Galaxy S4 (Octa)
2056
HTC Butterfly
1866
Oppo Find 5
1658
Samsung Galaxy S III
1641
LG Optimus 4X HD
1568
LG Optimus G
1522
Meizu MX 4-core
1468
Nexus 4
1310
There are two ways to look at the Moto X hardware performance. On one hand the smartphone is hardly a scrub and its GPU is on par with the big boys. On the other however, it has half the CPU cores and that shows in many of the tests - we wouldn't mind those scores if they came from a mid-ranger, but at this price point they are somewhat disappointing.
Don't get us wrong - lag is unfamiliar territory for the Moto X and the smartphone goes about its daily duties with ease, but the relatively limited CPU power is bound to show up when faced with more demanding tasks.