The upcoming Motorola Moto X+1 has gone through the GFXBenchmark test, which has confirmed its key specifications. The Moto X was criticized for not having flagship specifications, but it appears its successor will be a full-blown powerhouse.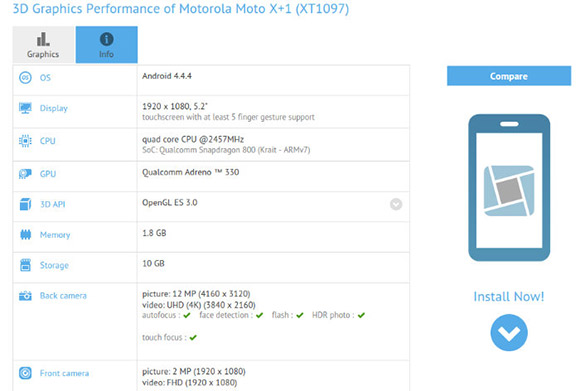 Motorola will launch the Moto X+1 with Android 4.4.4 and, we presume, plans for an update to Android L. Under the hood, there's a Qualcomm Snapdragon 801 chipset with a quad-core 2.5GHz Krait CPU, 2GB of RAM and an Adreno 330 GPU. Mind you, the GFXBenchmark has been known to falsely report the Snapdragon 801 chipset as a Snapdragon 800. Provided its operating frequency however, this is definitely the Snapdragon 801.
Internal memory is reported as just 10GB, which could be the available space left from the original 16GB. The Moto X and Moto G lacked microSD card slot, but since Motorola fixed its act with the more affordable of the duo we hope it will take proper care of its new flagship too.
The display of the Moto X+1 is a 5.2" with a full HD resolution. This is by far the largest smartphone Motorola has ever made and it'll be interesting to see how it'll handle. The company made a great impression for making its recent phones feel good in hand.
At the back, there's a 13MP snapper that is capable of recording 4K video, while at the front is a 2MP camera recording 1080p video.
The Motorola Moto X+1 will be announced alongside the Moto 360, Moto G2 (or perhaps Moto G+1) and a new Bluetooth headset on September 4 in Chicago at a dedicated press event.
D
_O_ wtf almost a phablet
D
Think, b4 talk!! it has camera with OIS, 2gb ram like s5 or m8, same processor n screen size, same screen tech like s5. whatever i am a big fan of moto X. first android smartphone to have a dual core proc but act like iphones. all iphones have d...
ADVERTISEMENTS