Phonebook
The Moto X4's dialer is simple and clean. There are only three tabs: favorites, call history, and contacts. The dial pad is accessed by the blue button at the bottom. From here, you can use alpha-numeric input of the dialer to search for a name. The dialer has an integrated call blocker, which can be found in the dialer's Settings.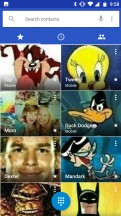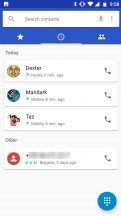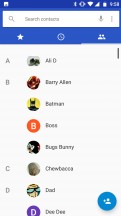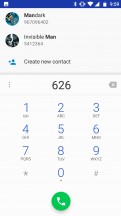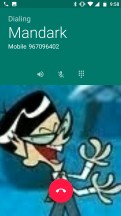 Dialer: Favorites • Call history • Contacts • Smart dial • In-call screen
Do Not Disturb mode settings can be found under "Sound" in the Settings app. Here, you can fine tune which calls or notification have priority. You can also set rules for when the phone should automatically go into Do Not Disturb mode.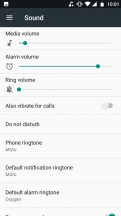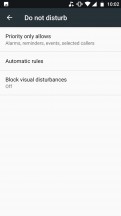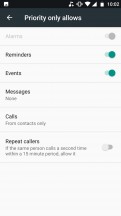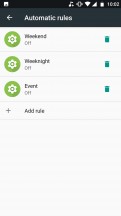 Sound settings • Do Not Disturb settings
Gboard for text input
Gboard is the default keyboard from Google and offers many features, predictive text, simultaneous language support, emoji and GIF search, and perform Google searches directly from the keyboard. You can look something up or share a result.
Loudspeaker
The Moto X4 employs the same loudspeaker design as the Moto Z2 Play and Z2 force - the earpiece is also the loudspeaker, a single front-firing one. The best bit about this setup is that it's great for multimedia - a down-firing implementation does direct the sound away from you.
In our testing, the Moto X4 didn't perform as loud as the Z2s, but still managed to deserve a spot in the 'Good' category.
| | | | | |
| --- | --- | --- | --- | --- |
| Speakerphone test | Voice, dB | Pink noise/ Music, dB | Ringing phone, dB | Overall score |
| BlackBerry KEYone | 62.2 | 66.0 | 67.7 | Below Average |
| Sony Xperia XZ1 (ClearAudio+) | 64.5 | 67.6 | 67.7 | Below Average |
| Sony Xperia XZ1 | 65.4 | 68.0 | 69.1 | Average |
| Sony Xperia XA1 | 61.7 | 69.7 | 71.8 | Average |
| Oppo F5 | 63.5 | 70.8 | 71.5 | Average |
| Samsung Galaxy A5 (2017) | 66.4 | 66.2 | 78.0 | Good |
| OnePlus 5T | 68.4 | 73.2 | 69.9 | Good |
| Motorola Moto X Play | 69.8 | 66.6 | 75.7 | Good |
| Motorola Moto X4 | 67.2 | 71.1 | 80.7 | Good |
| vivo v7+ | 66.5 | 73.1 | 79.6 | Very Good |
| Huawei P10 Lite | 68.5 | 72.5 | 80.1 | Very Good |
| Motorola Moto Z2 Play | 66.1 | 70.0 | 85.3 | Very Good |
| Motorola Moto Z2 Force | 68.2 | 70.2 | 86.1 | Very Good |
| HTC U11 Life | 70.9 | 75.3 | 88.0 | Excellent |
| Xiaomi Mi A1 | 74.0 | 73.9 | 90.4 | Excellent |
| Sony Xperia XA1 Plus | 88.9 | 77.8 | 84.6 | Excellent |