A couple of cams, one is ultra wide - LG is not alone anymore
The Moto X4 comes with a unique claim to fame - it's got a dual camera where one is 'standard', the other - ultra wide. But LG has been doing that since the G5, we hear you say. Ah, but the X4 has an ultra wide camera and it can shoot portraits with a blurred background - LG hasn't managed to deliver this so far.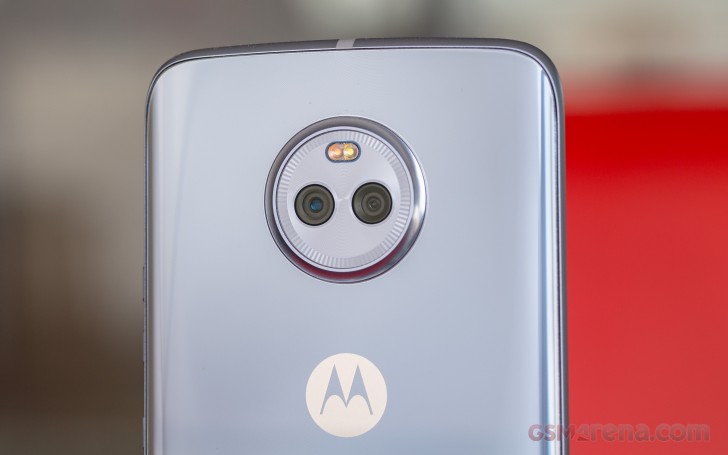 The primary camera of the Moto X4 is a 12MP unit with 1.4-micron pixels and dual pixel autofocus. The aperture of the lens is f/2.0 and there is no OIS, so if the first sentence had you thinking it's the same camera as on the Samsung Galaxy S7 these two details should set the record straight.
The secondary cam covers a 120-degree field of view, just like the LG V30, only the Moto X4's unit only has 8MP to spare for this wide frame. The lens has an f/2.2 aperture and focus is fixed - not strictly an issue with such wide-angle optics.
The way you switch between the two is a little iffy - there's a floating button that changes position when you rotate between portrait and landscape and fades away into a grayed out version of itself in a couple of seconds.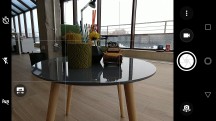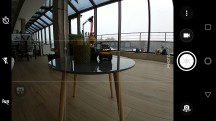 Normal camera • Wide angle camera
There are other quirks about the interface, though we came to appreciate the slide right for settings, slight left for gallery - after we stopped looking for buttons to do these two, that is. With these swipe actions you'd expect that switching between the front and rear cams would be implemented in a similar fashion - no, this one's a button.
The viewfinder offers quick toggles for HDR (Off/On/Auto), flash (Off/On/Auto), and self timer (Off/3s/10s).
The three dot menu is where you can access the special modes. Those include Face filters (Snapchat-like superimposed ears and the like) and Panorama, as well as a Professional mode, where you can dial in our own ISO, shutter speed, or exposure compensation, as well as pick a white balance preset and manually adjust focus.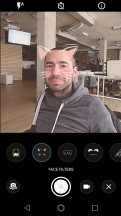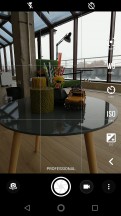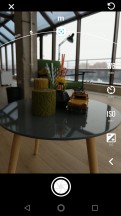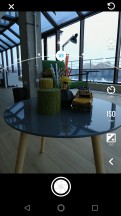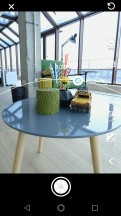 Face filters • Professional mode
Depth enabled mode is in this menu too - it's one for subject isolation. The first time you launch it you're greeted with a quick tutorial.
Spot color is another mode to be found here and it lets you capture only a certain color from the spectrum, leaving the rest of the photo black and white. A slider allows you to select how close the colors in the frame need to be to the one you picked so they don't turn monochrome.
One more neat feature the Moto X4 has is the double-twist action to launch the camera. It works every single time, and the camera starts up right away. If you find your hands full, double-twisting while the camera app is open will toggle to the front camera.
There's also a couple of recognition features, one for objects, the other - for landmarks. Point the camera at something, and the Moto X4 will try to recognize it and pull relevant info off the internet showing it to you in the form of cards. As you can imagine, it's far from infallible.
Image quality
For starters, you come to understand why LG isn't making a portrait mode with its ultra-wide camera - Motorola's implementation looks more like a beta version. It separates subject from background with some success, but the border is often sketchy and blunders aren't uncommon. That said, under the right circumstances you could end up with usable shots.
Things get weirder with non-human subjects - you'd expect the algorithm to handle straight lines better than randomly shaped faces, but that doesn't appear to be the case. Okay, the straws were a cheap shot, no phone will do an amazing job with those.
As for regular photos, those are alright. In good light, with the primary 12MP camera, the Moto X4 produces likeable results. There's sufficient detail and noise is kept in check, but high-frequency subject matter like grass can get a little mushy. Color reproduction is nice if a little conservative - we've seen more vibrancy from other phones. Reds in particular are somewhat lifeless.
We noticed a prevailing tendency for underexposure, or rather the X4 exposes for its highlights leaving high-contrast scenes looking darker than ideal. No biggie, you can brighten up the shadows in the Google Photos editor, or just hit the Auto button, but who likes to post process their phone photos? Okay, let's not go there.
Anyway, dynamic range isn't great, we expected more from these large 1.4-micron pixels.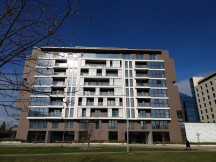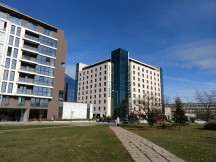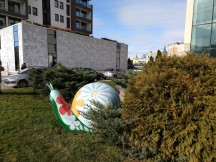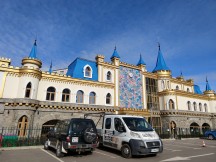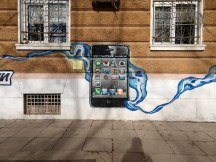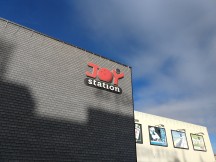 Camera samples, primary camera
Hitting that floating button to go into ultra-wide gives you a somewhat distorted, but special view of the world. You should take it for what it is and admire the perspective, instead of looking at the images at 1:1 magnification, as they're a little soft on a pixel level.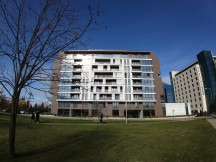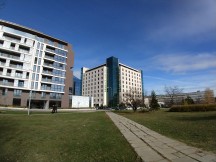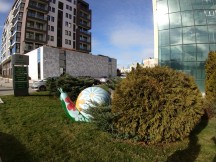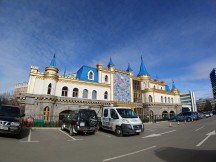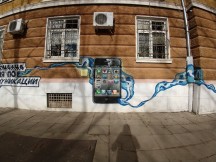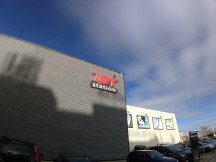 Camera samples, ultra-wide camera
HDR
One possible way to fight the X4's penchant for underexposed photos is to shoot in HDR. That will bring up the lower midtones, while also retaining some of the detail in the highlights - what HDR is supposed to do anyway. Oddly, manually enabling HDR results in softer images than HDR triggered in Auto mode, with little to no discernible difference in exposure. So Auto HDR all the time then.
Panorama
The Moto X4's panoramas are rather low-res with a height of around 1,800 pixels. For what you're losing in detail, however, you're getting very much flawless stitching.
Finally, you can head over to our Photo compare tool to see how the Moto X4 handles the controlled environment of our studio. We've pre-selected the Galaxy A5 (2017) and Xiaomi Mi A1, but you can replace those with any other two phones you feel like.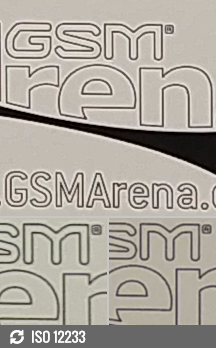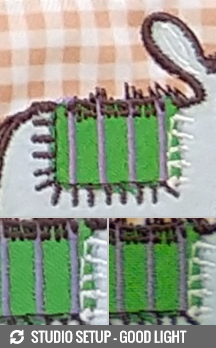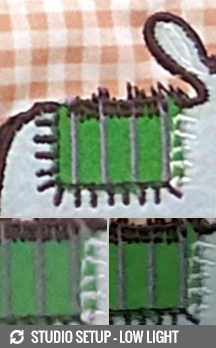 Moto X4 against the Samsung Galaxy A5 (2017) and the Xiaomi Mi A1 in our Photo compare tool
Selfies
The Moto X4 is big on selfies - it has a 16MP front-facing camera with an LED flash and it can also take 4MP selfies in low light, supposedly improving image quality. We'll let you be the judge of that.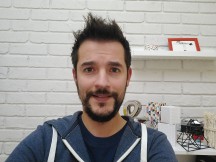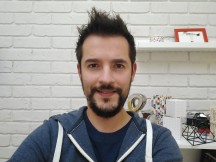 Selfie samples in low light (28lux): 16MP • 4MP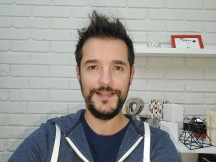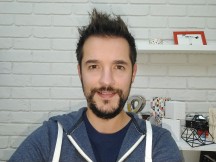 Selfie samples in low light (28lux), flash enabled: 16MP • 4MP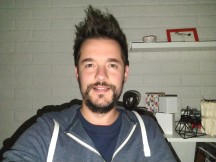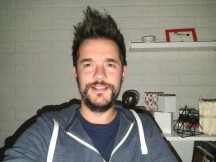 Selfie samples in total darkness, flash enabled: 16MP • 4MP
In bright daylight you're likely to enjoy all 16MP of the selfie cam - images are crisp and clean, and don't you just love it when a fixed-focus selfie camera has its plane of focus an arm's length away from the phone, for a change? As for colors, there's a bit of a pinkish tint that's not exactly true to life, but if anything, it could make you look better. Not this guy, obviously.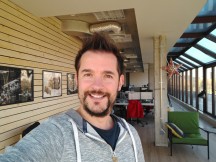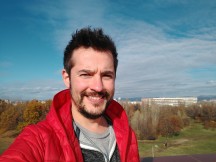 Selfie samples in good light: 16MP • 4MP
Video
The Moto X4 records video up to 4K - Snapdragons 625s and up can do the number crunching. There are also 1080p at 60fps and 30fps modes, of course.
4K videos get a generous 50Mbps bit rate, while 1080p is encoded at 17Mbps, both 30fps and 60fps frame rate. While 17Mbps is very much standard for 1080p/30fps, having twice the frames surely requires some more bandwidth, no? In all three modes audio is recorded in stereo at 128kbps.
2160p footage is superb - highly-detailed and noise-free. Colors are somewhat muted (again red is the blandest), and contrast, while not bad, is a little toned down - both of these presumably alowing more headroom when postprocessing. Even as it is, however, videos are excellent.
In 1080p/30fps video Moto engineers have dialed up the contrast and saturation a notch, and there's a more processed look to it compared to the more natural 4K footage. Videos are quite good nonetheless, some flagships have poorer 1080p/30fps footage. As expected from the bit rate numbers, 1080p/60fps can only do so much in 17Mbps and the video is noticeably softer than the 30fps version.
The wide angle camera only records 1080p/30fps - no 4K and no 60fps. The bit rate is again 17Mbps and the stereo audio gets 128kbps. The processing is closer to the 4K footage of the main cam than to its 1080p counterpart - a more laid-back natural rendition of the world.
There's the option for downloading a few short 10s clips the way they came out of the Moto X4. We've uploaded on our server a 2160p sample (65MB), a 1080p/30fps one, and a 1080p/60fps one from the main camera, as well as a 1080p/30fps sample from the wide angle cam (the last three 21MB each).
And finally, for some extra pixel peeping head over to our Video compare tool, where you can examine the Moto X4's output against any phone we've tested before. We've pre-selected the LG G6 (the Galaxy A5 (2017) doesn't record 4K) and Xiaomi Mi A1, but you can of course pick your own set.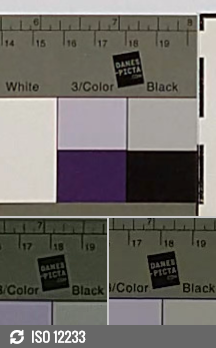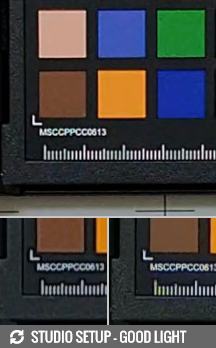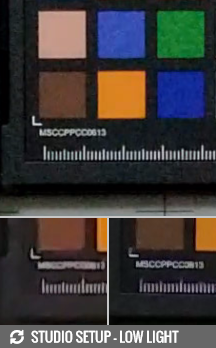 2160p: Motorola Moto X4 against the LG G6 and the Xiaomi Mi A1 in our Video compare tool