Starting August 23 you can go to an AT&T store and pick up (or at least try out) a Motorola Moto X. The Woven black and woven white models will go for $199.99 for 16 GB and $249.99 for a 32 gig model with a two-year subscription. With AT&T's Next you can go for a lease where it's $27 a month for the 16 GB and $32 per month for the 32 GB model.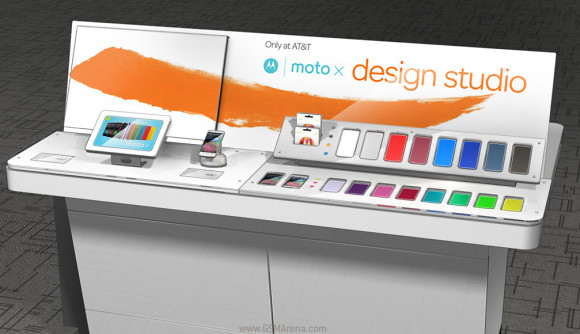 Devices that have been customized online using the Moto Maker service can expect their devices to ship on August 23 with a lucky few registered users getting it earlier on August 19.
Major AT&T stores (read not all) will have a customization table (like the one in the image) which will let you see the Moto X in its different varieties.
For a limited time AT&T will include a free Motorola Skip accessory with all orders placed via the Moto Maker. Skip is a wearable accessory, which lets you bypass the Moto X's lockscreen just by tapping the phone against it.
And here's an AT&T video teasing the upcoming Motorola Moto X launch.
D
I think you dont get it, this is not the next "Flagship" of motorola...
M
You had a daily mission of coming to GSMArena and whining to no one in particular. Mission accomplished.
?
You've got to love how all that customization hype ended up being; You get to choose a color, memory size (small or smaller with no externalSD), and a custom wallpaper.
ADVERTISEMENTS