Handle without care
Motorola Moto X Force review: Handle without care
Performance
The Moto X Force packs a hefty punch with the Snapdragon 810 v2.1 chipset. The Adreno 430 pairs very nicely with the latter for a smooth UI experience. Sure, there is the newer and cooler Snapdragon 820 chip, but let's not forget that the Moto X Force originally launched late last year when the 810 was still Qualcomm's greatest mass-production SoC around.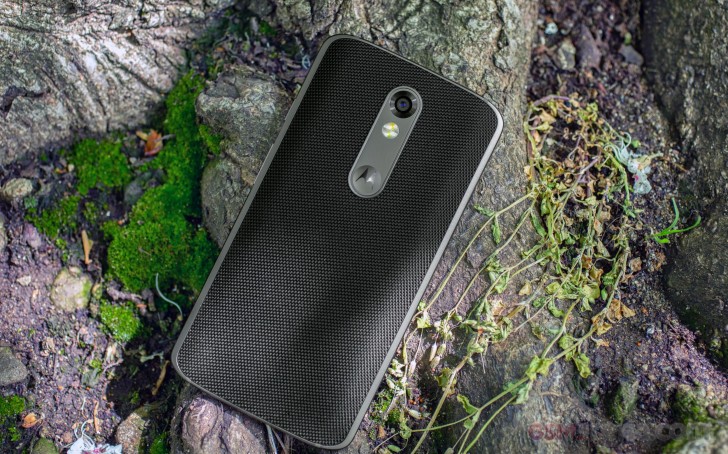 So, the Moto X Force offers an octa-core processor with 4x Cortex-A53 @ 1.5GHz and 4x Cortex-A57 @ 2.0GHz. There are also 3 gigs of RAM.
GeekBench 3 single-core score put the Moto X Force around the bottom of the chart as it tests a single Cortex-A53 core, which is quite outdated.
GeekBench 3 (single-core)
Higher is better
HTC 10
2368
LG G5
2328
Xiaomi Mi 5
2305
Samsung Galaxy S7
2170
Huawei P9
1819
Samsung Galaxy S6 edge+
1490
Huawei Nexus 6P
1363
Motorola Moto X Force
1273
The multi-core performance is on par with the last year's Exynos chips, but behind the S820 phones (Mi 5, G5, HTC 10). The custom Kryo cores inside those are paying off (remember, there are only four of those in a Snapdragon 820, while the Snapdragon 810 is an eight-core main processor).
GeekBench 3 (multi-core)
Higher is better
Huawei P9
6558
Samsung Galaxy S7
6360
LG G5
5362
Xiaomi Mi 5
5358
HTC 10
5257
Samsung Galaxy S6 edge+
5158
Motorola Moto X Force
4693
Huawei Nexus 6P
4539
LG V10
3607
LG G Flex2
3604
Moto X Pure Edition
3433
Motorola Moto X Play
2608
The compound AnTuTu benchmark puts the X Force on par with the Nexus 6P, which runs on the same chipset. The latest crop of flagships does noticeably better though.
AnTuTu 6
Higher is better
HTC 10
154031
LG G5
134541
Samsung Galaxy S7
132084
Xiaomi Mi 5
131758
Huawei P9
98069
Huawei Nexus 6P
89345
Motorola Moto X Force
87290
Samsung Galaxy S6 edge+
83167
LG V10
67547
We see the same results in the compound BaseMark OS II 2.0 test. The Moto X Force is around the bottom, on par with the S810-powered G Flex2 and Galaxy S6's Exynos. The latest flagships are faster by a significant margin.
Basemark OS 2.0
Higher is better
Xiaomi Mi 5
2180
Samsung Galaxy S7
2128
Huawei P9
2068
LG G5
2065
Huawei Nexus 6P
2040
HTC 10
1839
Samsung Galaxy S6 edge+
1789
LG G Flex2
1726
Motorola Moto X Force
1669
LG V10
1383
Motorola Moto X Play
809
There is a newer generation of Adreno GPU already, which is better equipped to handle Quad HD resolution. Still the S810's Adreno 430 model is quite a powerful and snappy GPU and will handle the graphic-demanding tasks with ease.
The offscreen test reveals the 30% raw power gap between the Adreno 530 (Mi 5, HTC 10, G5) and the Moto X Force's Adreno 430.
GFX 3.1 Manhattan (1080p offscreen)
Higher is better
HTC 10
31
LG G5
30
Xiaomi Mi 5
30
Samsung Galaxy S7
28
Motorola Moto X Force
20
Huawei Nexus 6P
17
Samsung Galaxy S6 edge+
15
Moto X Pure Edition
10
Huawei P9
10
LG V10
10
When it comes to onscreen Quad HD resolution, the Adreno 430 is actually very close to what the G5 and HTC 10 score with the newer Adreno 530. The Mi 5 is on top because it runs on 1080p resolution.
GFX 3.1 Manhattan (onscreen)
Higher is better
Xiaomi Mi 5
29
Samsung Galaxy S7
15
LG G5
15
HTC 10
15
Motorola Moto X Force
12
Huawei P9
11
Huawei Nexus 6P
11
Samsung Galaxy S6 edge+
6.6
LG V10
5.7
Moto X Pure Edition
5.6
The BaseMark X puts the X Force on par with the HTC 10 and the Galaxy S6 edge+, which is odd, but proves the GPU is very capable. BaseMark ES 3.1 GPU test also shows a better result than the Nexus 6P, and not far behind the Mi 5.
Basemark X
Higher is better
Xiaomi Mi 5
33110
Samsung Galaxy S7
32345
LG G5
29456
HTC 10
28882
Motorola Moto X Force
26697
Samsung Galaxy S6 edge+
26333
Huawei Nexus 6P
22825
LG G Flex2
19360
Huawei P9
16942
LG V10
15161
Moto X Pure Edition
14598
Motorola Moto X Play
5032
Basemark ES 3.1 / Metal
Higher is better
Samsung Galaxy S7
732
LG G5
587
Xiaomi Mi 5
580
Motorola Moto X Force
525
Huawei Nexus 6P
504
Samsung Galaxy S6 edge+
348
Huawei P9
341
LG V10
297
The good news is the Motorola Moto X Force and its Snapdragon 810 provide a flagship-grade performance even though it's not chart topping. There isn't a single task the Force can't handle, and all available games to date will run hassle-free.
Android Marshmallow runs butter-smooth, too, so there is nothing to worry about either.
The Snapdragon 810 chip was plagued by overheating issues, and while it is now in its second (improved) revision, those are still possible. Luckily, the Moto X Force handles thermal distribution very well and there is no throttling even when the phone gets hot.
And the bad news is, the Moto X Force indeed gets hot when under pressure. Its metal frame and ballistic nylon rear cover get uncomfortably warm. But that's it - there is no overheating or performance throttling.