Time-saver edition
Motorola Moto X Play review: Time-saver edition
Introduction
In many ways, the Moto X play is a sort of middle ground, a half-step between the Moto G and the Moto X, but with a clear-cut stride towards the higher end of the scale.
An even more accurate way of describing the handset would be as a budget alternative to the Moto X Style, than anything else. At 5.5 inches, it is the ideal vanilla Android phablet, if you want a straight-forward experience, minus a few 2016 bells and whistles.
Key specifications

5.5"1080x1920 pixels

21MP 1080p

1.7GHz Snapdragon 615

2GB RAM 16/32GB memory

3630mAhLi-Po
A mid-ranger on paper, thanks to its clean Android approach, the Motorola Moto X Play definitely punches above its weight and promises a real premium treat, without breaking the bank.
Design and build quality
The Moto X Play takes a definitively traditional approach to design and materials. It is plastic all around, but unlike many other mid-rangers, which endeavor to conceal their identity and imitate a glass or metal finish, the Moto X Play, proudly displays its rounded plastic frame, detachable back ant glossy front panel, all clearly distinguishable - traditional or outdated, you be the judge.
The Moto X play is also a fairly sizable device. It measures 148 x 75 x 10.9mm, which makes it one of the thickest smartphones of late. However, its economical curves, grippy shapes and balanced weight distribution make for one truly comfortable device to hold, despite its chubby appearance.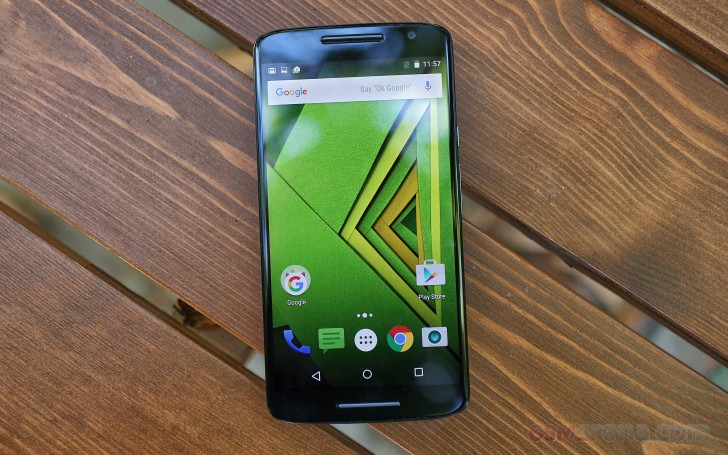 In keeping with the design, controls are pretty standard as well, almost formalist. The left side is empty and the volume rockers and power are the only buttons on the right. The SIM slot is on the top of the device, which is odd, considering the back plate is, in fact removable. While good for quick customization, the latter does allow of water and dust to penetrate closer to the battery. Still, that shouldn't be a problem, as Motorola have certified the device as having a water-repellent nano-coating (IP52 certified ).
Display
The display is one area in which the Moto X Play lacks somewhat behind its higher-end sibling. It is a bit smaller at 5.5-inches and only has FullHD resolution. This might be a drawback for some, but in reality, 1080p is still perfectly fine, especially for a mid-ranger and the LCD panel in the Moto X Play is actually quite impressive.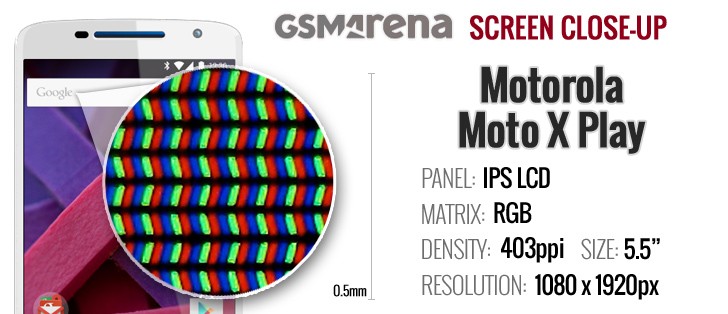 The maximum display brightness of the Moto X Play of 620 nits is excellent, but when you enable the automatic brightness control the phone is able to push the screen even higher (up to 760nits) in direct sunlight.
Contrast is also excellent at 1504:1 and it terms of sunlight legibility, the phone performs better than the iPhone 6 Plus with an impressive rating of 3.222.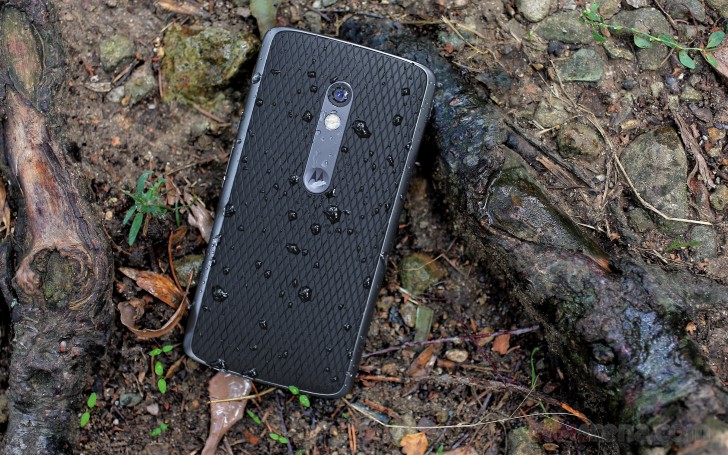 Regarding color reproduction accuracy, the Motorola Moto X Play displayed an impressive level of accuracy - Avg deltaE of 3.8. We consider a screen properly calibrated when it has a maximum DeltaE of 4.
Update, Mar 12: We've decreased the score in this section after the publishing of this review as we discovered a technical mistake has caused the initial calculation to be incorrect.
Battery life
The smartphone packs up to 3,630mAh worth of juice, but the battery itself is not user-replaceable, despite the removable back cover. The Moto X Play does support Motorola's TurboPower fast charging, but the charger deeds to be purchased separately, as the bundled one can only pump out 1.15A.
Through our dedicated tests the Moto X Play scored an endurance rating of 82h, which is an estimation of how long the phone would last if you use it for an hour each of calling, browsing and video playback a day.
Such usage pattern may not be relevant to your own usage scenario, but we've established it so our battery results are comparable across devices. You can adjust the formula to better match your own usage pattern, by visiting our dedicated battery test results page.
The 82-hour rating of the Moto X Play is above average, not the absolute best, but still impressive enough. The phone is good for 26.5 hours of 3G voice calls, a very good result. In our video playback test, the Moto X Play dies after a hair more than 12 hours, and Wi-Fi web browsing longevity is nearly as long.
Update, Mar 12: We've increased the score in this section after the publishing of this review as we discovered a technical issue has made the calculation flawed.
Audio
The speaker on the Motorola Moto X Play earned a Good score in terms on loudness. The Moto G (3rd gen) is actually quite a bit louder, but the Moto X Play is louder than the Motorola-made Nexus 6.
Audio output quality through the 3.5mm jack is another area where the Moto X Play shows its flagship spirit and performs marvelously. The smartphone did flawlessly in the active external amplifier test, posting excellent scores top to bottom and garnishing them with super high volume levels.
Even more impressively, the experience is barely affected when you plug in a pair of headphones. Volume doesn't drop at all and clarity is hardly affected. A small jump in crosstalk is the only downside, but it is well within acceptable bounds. Overall, the Moto X Play can put a lot of flagships to shame in this department.
Photo camera
The camera department is one area, where Motorola didn't settle for any compromises. The Moto X Play utilizes a 21MP Sony sensor and an f/2.0 lens. Additional features include phase detection autofocus and a a dual-tone flash, for more realistic colors in low light.
Image quality is superb. Detail levels are high on pixel level, and everything is nice and sharp all the way to the corners. Motorola has definitely found a nice balance between noise reduction and sharpness, with everything looking quite natural in the end.
Colors come out great too - not too punchy, but not too dull. Auto exposure is spot on nearly every time and produces consistent results.
The phase detection auto focus is a breeze during the day. Focusing gets trickier in low light but we've seen worse from even pricier phones.
Overall, the camera experience would be nearly perfect, were it not for the somewhat unpleasant to use Motorola camera app. Luckily, that's an easy fix with some aftermarket software.
Video camera
The Motorola Moto X Play is only capable of recording video at up to 1080p resolution and 30fps, unlike the Moto X Style, which, thanks to its Snapdragon 808 SoC can go up to 2160p. The Moto X Play can actually do higher frame rates as well - 120fps slow motion, but at 540p.
The 1080p videos are recorded with a bitrate around 17Mbps and stereo audio at 128Kbps. They have an overall good quality to them with accurate colors and steady exposure. Detail is only about average though.
The Moto X Play tends to focus hunt quite a bit and the overall quality would definitely benefit from OIS, but, overall, for a mid-range phone, the Moto X Play does quite alright with video as well.
Software
Motorola has a tried and true way of going about software and its typically the Google way. In keeping with this tradition, the Moto X Play is about as close to stock Android as a Nexus device, with little to no added bloatware. There is only the Google suite of apps preloaded, along with a few Motorola productivity apps, for that extra little bit of productivity.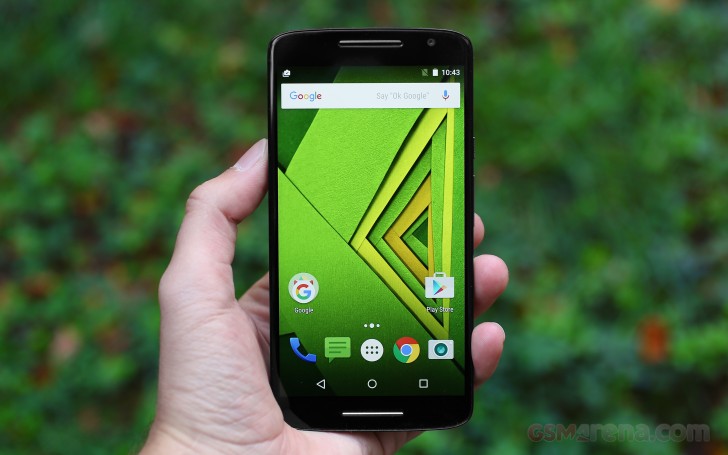 Moto Assist, for instance, can automate sound mode changes for you, as well as provide you with a voice assistant and some advanced lockscreen notification interactions. The Moto X Play currently runs on Android 5.1.1 Lollipop, but an update to Android 6.0 Marshmallow is imminent. As for the interface itself, most everything is done following Google's Material guidelines.
Update, Mar 12: We would like to make it clear that the score in this section is based on a number of factors such as how recent the version of Android is, how likely the phone is to get frequent updates to future major versions, how well the built-in biometric security feature works for unlocking the phone, as well as on the amount of meaningful extra features and customization options offered by the manufacturer on top of the vanilla Android. This comes to clarify that if you consider yourself to be an Android purist who likes their clean stock Android, the scores in this section most probably won't be completely relevant to your preferences.
Benchmark performance
The Motorola Moto X Play relies on a a typical midrange setup, including Qualcomm's Snapdragon 615 SoC and 2GB of RAM. This means that it has four Cortex-A53 cores, working at 1.65 GHz and another four, clocked at 1.11 GHz and graphics are handled by an Adreno 405 GPU.
We have seen the particular hardware platform quite a few times in the past and it has proven itself quite capable of delivering a fluent Android experience.
Overall, the Moto X Play can handle pretty much any app you throw at it with ease and its 1080p resolution help it perform fluently is most popular casual game titles, as well.
Wrap-up
The Moto X Play came with a lot of promise to push the boundaries of what a mid-ranger can offer, within a restricted budget and in a lot of ways, it delivered on that promise. For just under $300, you get a quite sensibly cut-back version of the Moto X Style, which, in our opinion, offers a perfect scale-down in performance, without really disturbing any of the other crucial features of the handset.
A spacious, high-quality display, powerful 21MP shooter and near-stock Android are just some of the selling points of the Moto X Play and the list goes on and on.
Motorola Moto X Play
Pros
Cons

Excellent 1080p LCD display with superb brightness, colors and contrast.
Impressive 21MP shooter, especially for stills
Snappy performance on the near-stock Android ROM

Bulky body and generic design
No 4K video recording
Also consider
- A bit older and has only a 13MP shooter, but offers a larger 6-inch AMOLED screen, a faster Snapdragon 805 SoC and 4K video recording.

The LG G3 - A true flagship, albeit slightly older with a Snapdragon 801 SoC and 5.5-inch QHD display.
However, the Moto X Play isn't without faults, although, most of them do come down to personal preference. The overall design is a love-it-or-hate-it affair and the Snapdragon 615, while capable, won't be breaking benchmarks any time soon. Then again, it is easy to forgive most of these minor shortcomings when you consider the big picture, in which the Moto X Play is truly a tantalizing 2015 Motorola offer.
Motorola Moto X Play
Total GSMArena score
3.4 / 5
| | | |
| --- | --- | --- |
| Design and build quality | | 3.0 |
| Display | | 4.5 |
| Battery life | | 5.0 |
| Audio | | 4.0 |
| Photo camera | | 3.5 |
| Video camera | | 1.5 |
| Software | | 3.5 |
| Benchmark performance | | 2.5 |
| Coolness | | 3.0 |
D
Does it support jio volte