If you are a Motorola fan in the US, and are planning to purchase the Moto Z, you'll be glad to know the device is currently available at discounted rates in the country. Specifically, Amazon, Best Buy, and B&H all have the 64GB model listed for $399.99.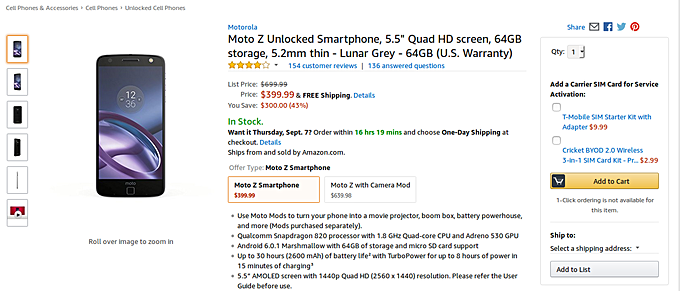 That, if you compare, is a whopping $300 less than what the device usually goes for at these retailers. A quick look at Motorola's official website, however, reveals a price tag of $450, which means purchasing from Amazon, Best Buy, or B&H will save you at-least $50.
While Amazon and Best Buy don't reveal when the promo ends, the device's listing on B&H says the offer runs through September 9. So those interested in availing it have a few days at hand. For more information head to the Source links below.
D
You sure about that with its QHD screen, 2600 mAh battery and an endurance rating of 53h?
?
You can't judge something without using it, i have the moto z and it has one of the best battery optimization ever, i get 4.5 hours of SOT, plus the stock android is very fluid and the multitasking is just amazing, it keeps my games in the background...
?
Moto made the keyboard mod an official mod. Good, right? Not exactly. Moto officially supporting the keyboard mod only adds to the bureaucracy; now they need to get all sorts of FCC approvals and also make sure that it doesn't infringe on a...