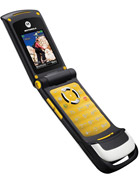 S
I cannot recommend this phone. I'm on my second phone. First phone had static on the line most of the time, randomly hung up in the middle of phone calls, keypad doesn't work properly, and ringtones change randomly (without user intervention). Second replacement phone - keypad STILL not working properly, ringtones still change randomly, and now the phone book entries are getting deleted (again without user intervention) and about 30 of my entries automatically duplicated themselves requiring me to manually delete them one by one.
F
Hmm I used to have a KRZR but changed when Moto started creating similar looking cheap phones... but now it seems like they're never gonna stop producing same phone with slight changes hard to notice. Motorola I'm tired and started using Sony Ericsson but will be back if nething good comes out. AURA/?/ for rich and retired people....
G
Reminds me a little of SE Z710i! It's fun-looking. But I think active phones like this should have GPS to make them perfect!
?
Its a KRZR with another body and worse software...
Yet a cheap and sporty alternative...
Total of 29 user reviews and opinions for Motorola MOTOACTV W450.