Introduction
Earlier this month Motorola announced a trio of RAZR phones in New York, but we knew all along that wasn't the end of it - both Moto and Intel had sent out invites for a European event in London, promising to take us to the edge.
Since the invite came before the announcement of the new RAZR phones, it wasn't clear what Motorola meant by "edge". But their new edge-to-edge screen design solved that mystery - the RAZR M, for example, is almost the size of an iPhone 5, while packing a bigger 4.3" screen.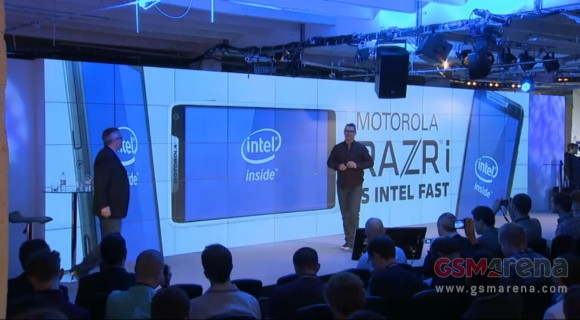 The big news from today's Motoedge event, however, isn't the compactness of the phone, it's the Intel-made chipset that powers it. Just as ARM chipset have moved into Windows 8, so has Intel's x86 Atoms charged into the smartphone field.
Atom processors are already in several Android phones, but none of them comes from a player like Motorola. Moto is one of the biggest smartphone makers with a rich history of innovation, not to mention that they're owned by Google now.
Andrew Morley came up on stage and promised the most important device since the original RAZR. Jim Wicks took over and explained that the new device is a product of deep collaboration between Motorola and Intel.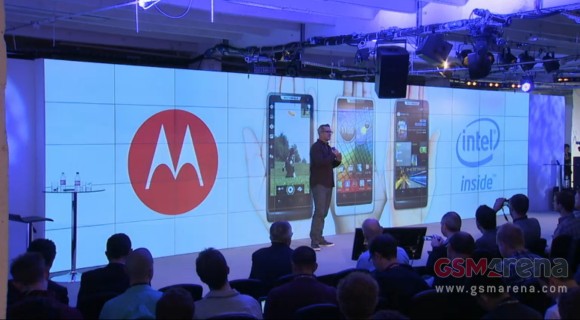 And he unveiled the first phone with a 2GHz Intel processor, the Motorola RAZRi. The phone's frame is made with aircraft-grade aluminum, there's Kevlar on the back and the screen is protected by Gorilla glass with water-repellent coating.
Speaking of the screen, it's a 4.3" SuperAMOLED Advanced edge-to-edge display with nearly zero pixel response time. Wicks made a point that they managed to fit a proportionally bigger screen than Apple managed with the iPhone 5.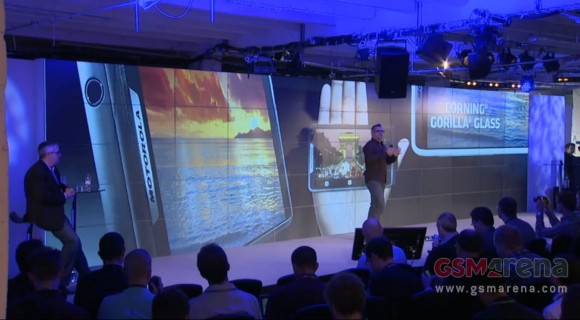 The processor that powers the Motorola RAZRi is built on a 32nm process and is the first clocked at 2GHz. Intel has optimized the entire experience, including JavaScript and multitasking. With multithreading, Intel promises their chip outperforms current dual-core processors. The GPU is also built on the 32nm process, so Intel is promising good gaming performance.
The battery in the phone has 2000mAh capacity - "40% bigger than the one in the iPhone 4S".
The 8MP camera starts up in under a second and shoots 10 photos in, again, under a second. There's a dedicated shutter key, to make the whole experience quicker and more comfortable. Intel's technology also enhances the image quality.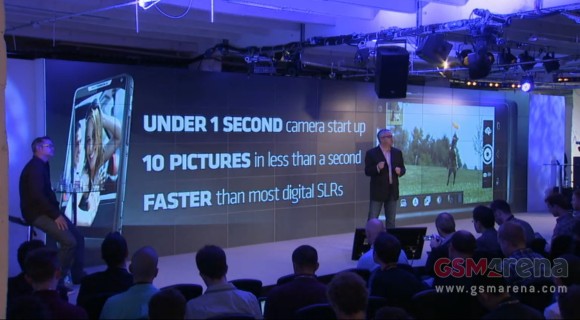 The Motorola RAZRi packs NFC connectivity for easy sharing of data and pairing with Bluetooth headsets.
The RAZRi runs Android 4.0 Ice Cream Sandwich at the moment with Motorola's cool circle widgets. Where permitted by local laws, the RAZRi will come with an unlocked bootloader.
The Motorola RAZRi will be available in select markets - the UK, France, Germany, Brazil, Argentina and Mexico - from the beginning of October.
The presentation just ended, but we're hoping to get a quick hands-on with the RAZRi, so stay tuned for updates!