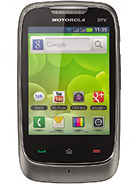 C43036
Does this run Android?
D
So cute looks sooo tiny but no selfie cam and have no idea have you download with no operating system. 4.0 Stars
r
iy.jeff1220@yahoo.co, 30 Mar 2013some time the scream is stave and the TV is not working the phone was realy i like .Iam buy soonly
R
I think you guys of motorola were sleeping and dreaming. This set was released on July and now you are posting it. So, this is the reason why you are far behind other brands. Come on its time to wake up from your long slumber. Gird your loins, and take the latest technology as a sword in your hand and come to the battle field of mobile and declare your supremacy and gain your lost glory. Don't you want to do this Motorola....,??!
Total of 5 user reviews and opinions for Motorola MotoGO TV EX440.