Unboxing
Motorola Nexus 6 ships in an all-white retail box with a large number 6 on its cover. Inside it, you will find the device, a USB cable, and Motorola's Turbo Charger. A tool to remove the nano-SIM card and a few booklets complete the picture.
A bundled headset would have been appreciated too - especially considering the device's newly found price category.
We are happy to see the Motorola Turbo Charger inside the box of the Nexus 6. Motorola claims that a 15 minute charge should be able to deliver enough juice for up to 8 hours of mixed usage.
Design and build quality
Have you ever wondered what will happen if you stretch the Moto X (2014) a bit and slap a large Nexus logo on its back? Look no further than the Nexus 6. Save for the larger footprint and the Nexus branding on the back, it is visually identical to the Moto X.
Just like its smaller Moto sibling, Nexus 6 is a great piece of hardware to look at. Its exposed aluminum frame elevates its appearance drastically over the Nexus 5. Overall, the smartphone looks in line with the expectations its price tag carries.
The phablet is available in two color schemes - Cloud White and Midnight Blue like the model we tested. The white version features aluminum frame with natural metal finish, while the blue model has a frame in a color-coordinated hue, a slightly lighter blue than the finish of the back cover.
The build quality of the Nexus 6 is stellar. With a sturdy metal frame, a back cover made of quality plastic with matte finish, and a face that's entirely covered in Corning Gorilla Glass 3, the phablet looks and feels ready for plenty of use and abuse.
Water resistance is also listed as a Nexus 6 quality. The handset does not carry an official IP certification, but is made to handle accidental splashes.
Physical measures of the Motorola Nexus 6 are 159.3 x 83 x 3.8-10.1 mm, while its weight tips the scale at 184 grams. As its 6" display suggests, the latest Nexus is a big fella - right in line with today's trends.


Nexus 6 sized up against Samsung Galaxy Note 4
Motorola Nexus 6 has a larger footprint than the Samsung Galaxy Note 4 - hardly a surprise considering the larger display and the stereo speakers it packs. Apple iPhone 6 on the other hand, is only slightly shorter despite its considerably smaller 5.5" screen.
Handling the phablet is surprisingly easy thanks to its curved body. The latter is designed to follow the natural shape of the human palm, so it is thicker in its middle, but thin around the edges.
Display
Motorola Nexus 6 packs a 5.96" AMOLED display with a resolution of 2560 x 1440 pixels. The aforementioned resolution results in the rather impressive pixel density of 493ppi.





The display of Motorola Nexus 6
The display's brightness is impressive too, as is its contrast. Viewing angles are great you will be able to easily share your content with other people.
Display test
50% brightness
100% brightness
Black, cd/m2
White, cd/m2
Contrast ratio
Black, cd/m2
White, cd/m2
Contrast ratio
Motorola Nexus 6
0
149
∞
0
372
∞
Samsung Galaxy Note 4
0
291
∞
0
399
∞
Apple iPhone 6 Plus
0.17
208
1197
0.52
705
1361
LG G3
0.14
109
763
0.72
570
789
Meizu MX4 Pro
-
-
-
0.69
775
1127
Sony Xperia Z Ultra
-
-
-
0.47
467
1001
The 6-inch AMOLED screen makes use a standard Diamond Pentile matrix. Every pixel has four sub-pixels and essentially a RGBG arrangement. Here's how the layout looks under a microscope.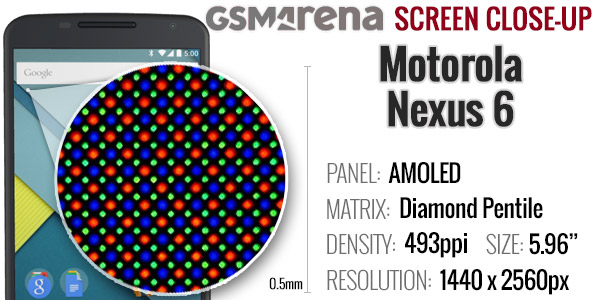 One thing to keep in mind is that when viewed from a small angle, the display of Nexus 6 tends to showcase a slightly greenish hue. We don't consider this to be a deal breaker, as the screen is not developed with such usage in mind.
Like most AMOLED units out there, the one found in the Nexus 6 boasts slightly over saturated colors. The latter are not as accurate as those produced by IPS displays, but are nevertheless enjoyable.
Sunlight legibility is excellent. Users will be able to view their content even in places with bright light.
Sunlight contrast ratio
Nokia 808 PureView
4.698
Samsung Galaxy A3
4.241
Samsung Galaxy Note 4
4.033
Apple iPhone 5
3.997
Samsung Galaxy Note 3
3.997
Samsung Galaxy A5
3.895
Apple iPhone 6
3.838
Samsung Galaxy Note Edge
3.799
Oppo R5
3.678
Samsung Galaxy K zoom
3.675
Nokia Lumia 930
3.567
Apple iPhone 5s
3.565
Samsung Galaxy S5
3.549
Nokia Lumia 735
3.547
Motorola Nexus 6
3.543
Alcatel Idol X+
3.527
Apple iPhone 5c
3.512
Samsung Galaxy Alpha
3.509
Samsung Galaxy Note 3 Neo
3.487
LG G Flex2
3.465
YotaPhone 2
3.453
Motorola RAZR MAXX
3.42
Samsung I9300 Galaxy S III
3.419
Samsung Galaxy S5 Active
3.406
Nokia Lumia 925
3.402
Gionee Elife S5.5
3.386
Samsung I9505 Galaxy S4
3.352
Samsung Omnia W
3.301
Samsung Galaxy S5 mini
3.174
Samsung I9000 Galaxy S
3.155
Samsung Ativ S
3.129
Samsung I9190 Galaxy S4 mini
3.127
Samsung Galaxy S4 zoom
3.118
Nokia N9
3.069
Apple iPhone 6 Plus
3.023
Samsung Galaxy Note
2.97
Samsung Galaxy Premier
2.958
Sony Xperia Z1
2.95
HTC One S
2.901
Lenovo S90 Sisley
2.892
Samsung I8730 Galaxy Express
2.861
BlackBerry Q10
2.856
Samsung I9100 Galaxy S II
2.832
HTC Desire Eye
2.815
Gionee Elife S5.1
2.812
Samsung Galaxy S II Plus
2.801
BlackBerry Z30
2.79
Meizu MX4 Pro
2.765
Sony Xperia ZR
2.672
Huawei Ascend P1
2.655
Sony Xperia Z3
2.618
Sony Xperia Z3 Compact
2.616
Sony Xperia T3
2.609
BlackBerry Passport
2.595
Nokia Lumia 900
2.562
Motorola Moto G 4G
2.546
HTC One Max
2.537
Nokia Lumia 720
2.512
HTC One
2.504
Motorola Moto G
2.477
Sony Xperia Z
2.462
Xiaomi Mi 4
2.424
Samsung Galaxy S III mini
2.422
Lenovo Vibe Z2 Pro
2.416
LG G Flex
2.407
HTC Desire 820
2.372
HTC One (M8)
2.371
Motorola RAZR i
2.366
Meizu MX4
2.366
Sony Xperia ZL
2.352
Samsung Galaxy Note II
2.307
HTC One (M8) for Windows
2.291
Oppo Find 7a
2.279
Alcatel One Touch Hero
2.272
Apple iPhone 4S
2.269
HTC Desire 600 dual sim
2.262
Nokia Asha 311
2.25
Motorola Moto G (2014)
2.233
LG Nexus 5
2.228
Nokia Lumia 820
2.193
HTC One (E8)
2.185
Oppo N3
2.181
Nokia Lumia 920
2.17
HTC One X
2.158
Nokia N8
2.144
Nokia Lumia 620
2.142
Nokia 515
2.134
HTC Desire 500
2.129
Sony Xperia C3 Dual
2.12
Sony Xperia acro S
2.119
Xiaomi Redmi Note
2.119
Nokia Lumia 1020
2.103
Oppo Find 5
2.088
Sony Xperia SL
2.078
Nokia Lumia 630
2.056
BlackBerry Z10
2.051
Huawei Ascend Mate7
2.024
Samsung I9295 Galaxy S4 Active
2.022
Apple iPhone 4
2.016
HTC One mini
2.003
Xiaomi Mi 3
2.001
Huawei Ascend P7
1.992
LG G2
1.976
OnePlus One
1.961
Oppo R819
1.957
Sony Ericsson Xperia ray
1.955
Lenovo Vibe X2
1.952
Sony Xperia Z2
1.944
Sony Xperia E3
1.943
Nokia Lumia 1320
1.941
HTC One mini 2
1.94
Samsung Galaxy Camera
1.938
Samsung Galaxy Grand Prime
1.935
Sony Xperia J
1.932
Acer CloudMobile S500
1.931
LG Nexus 4
1.926
LG G Pro 2
1.922
Samsung Galaxy Mega 6.3
1.913
Nokia Asha 308
1.911
HTC Butterfly 2
1.905
Sony Xperia T
1.894
Nokia Lumia 830
1.887
HTC Desire X
1.878
HTC Butterfly
1.873
HTC Windows Phone 8X
1.873
HTC Butterfly S
1.867
Huawei Ascend P6
1.865
Huawei Ascend Mate
1.845
LG G2 mini
1.838
LG G3
1.82
Nokia Lumia 1520
1.813
HTC Desire 616 dual sim
1.797
Sony Xperia V
1.792
HTC Desire 816
1.783
Sony Xperia Z1 Compact
1.772
HTC Desire 700 dual sim
1.769
Sony Xperia U
1.758
Meizu MX3
1.754
LG Optimus G
1.753
Sony Xperia T2 Ultra
1.74
Sony Xperia Z3 Tablet Compact
1.735
Sony Xperia SP
1.733
LG Optimus 4X HD
1.691
Oppo Find 7
1.691
HTC One V
1.685
BlackBerry Q5
1.682
LG Optimus Vu
1.68
Xiaomi Mi Pad 7.9
1.672
LG Optimus GJ
1.666
LG Optimus 3D Max
1.658
HTC Desire V
1.646
Samsung Galaxy Xcover 2
1.632
Samsung Galaxy Ace 3
1.622
Jolla Jolla
1.605
Sony Xperia Z Ultra
1.578
Sony Xperia go
1.577
Samsung Galaxy Ace 2 I8160
1.566
Samsung Galaxy Core
1.563
LG Optimus G Pro
1.552
Motorola Moto E
1.545
LG Optimus 3D
1.542
Nokia Asha 302
1.537
Samsung Galaxy Core Prime
1.507
BlackBerry Curve 9320
1.488
Sony Xperia M
1.473
Oppo N1
1.47
Meizu MX 4-core
1.462
Nokia Lumia 610
1.432
Samsung Galaxy S Duos
1.4
Sony Xperia M2
1.393
Microsoft Lumia 535
1.393
Samsung Galaxy Grand Neo
1.393
Samsung Galaxy Grand 2
1.38
Sony Xperia E1
1.372
Nokia Lumia 625
1.371
Gigabyte GSmart G1355
1.361
Sony Xperia L
1.351
Samsung Galaxy Mega 5.8
1.35
Xiaomi Redmi 1S
1.35
HTC Desire 510
1.34
Sony Xperia M2 Aqua
1.331
Sony Xperia miro
1.324
Samsung I9082 Galaxy Grand
1.321
Samsung I8530 Galaxy Beam
1.315
Xiaomi Redmi 2
1.311
HTC Desire C
1.3
Nokia X
1.291
Sony Xperia C
1.283
Nokia Asha 503
1.281
Nokia Asha 501
1.27
LG Optimus L7
1.269
Nokia Lumia 510
1.268
Samsung Galaxy Fame
1.245
LG Optimus L9
1.227
Meizu MX
1.221
Samsung Galaxy Young
1.22
Sony Xperia E
1.215
Nokia XL
1.204
Sony Xperia E dual
1.203
Asus Memo Pad 7 ME176C
1.198
Samsung Galaxy Pocket
1.18
Nokia Asha 305
1.178
Nokia Asha 306
1.175
Sony Xperia neo L
1.169
Sony Xperia tipo
1.166
Nokia Lumia 520
1.161
Samsung S6802 Galaxy Ace Duos
1.148
Samsung Galaxy mini 2
1.114