The Nexus-related leaks today just keep on coming and the latest one refers to the Motorola-made Nexus 6 and HTC-produced Nexus 9 pricing. The pricing details in question originate from German retailers Media Markt and Saturn.
The Nexus 6 will be available in two color and storage options. Both the 32GB and 64GB models will be available in black and white and will retail for €569 and €649, respectively. Note, that the Nexus 6 won't sport a microSD card slot.

As for the HTC Nexus 9, its base Wi-Fi 16GB model will retail for €399, while the 32GB model sans LTE will cost €489. The high-end model with LTE and 32GB of storage will go for €569. All models are available in black and white.
Admittedly, the pricing of the two devices isn't what Nexus customers have been accustomed to. The higher prices are a direct result of the premium specifications that the two devices tout.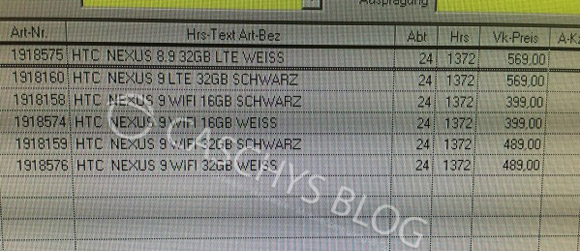 The Motorola Nexus 6 sports a Qualcomm Snapdragon 805 chipset with a 2.65GHz quad-core Krait 450 CPU inside and 3GB of RAM. The front of the phone houses a 5.9" QHD display as well as stereo speakers. The battery is rumored to be 3,200mAh and the main camera is 13MP with OIS and dual LED flash.
The specifications of the HTC Nexus 9 are equally high-end with an 8.9-inch 2,048 x 1,440 display, a 64-bit Nvidia Tegra K1 chipset, an 8 MP rear camera, a 3 MP front snapper, and dual front-facing speakers. It will weigh 480g and will come with a brushed aluminum frame, and not an all-metal design.
Both devices were rumored to go official today, so stay tuned!
P
The Nexus 6 will cost €650 64v not pounds.
H
Well, in asia Nexus 9 lte will cost at least 120$ more than TabS 8.4 lte. Do u think anybody will buy it. I here same goes for Europe.Again, Nvidia shield tablet and Mipad have Tegra k1 processor. They cost way less. Who is to blame?
?
I was waiting for the nexus 6 but now I'm thinking I should by the Nexus 5 due to the price :/