A 48MP camera for 12MP photos
The Motorola One Vision has a very familiar dual-camera setup on its back - a 48MP primary with a 5MP secondary shooter for depth sensing. The main sensor is behind f/1.7 lens and even has optical stabilization - a relative rarity among the pletory of phones with similar 48MP sensors. Phase-detection autofocus, and a dual-tone LED flash complete the camera specs.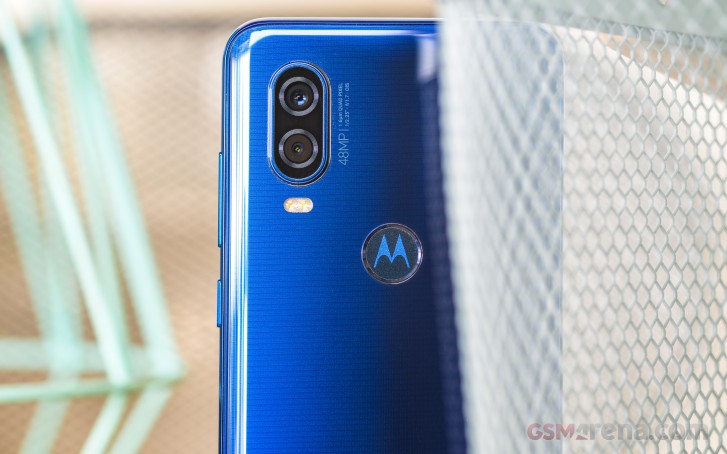 The 48MP sensor is pretty big - 1/2"-type and has 0.8µm pixels and f/1.7 lens. It's a type of sensor that has gained a massive momentum and has been used in various smartphones including high-end handsets such as the Honor View 20 and Xiaomi Mi 9. Xiaomi Redmi Note 7, OnePlus 7, Oppo F11 Pro, and the Vivo V15 Pro also use such sensors for their main cameras.
The sensor has Quad-Bayer filter that combines four adjacent pixels into one essentially turning it into a 12MP sensor with large 1.6µm pixels and real-time HDR. This results in a sharper 12MP photo with plenty of light, detail and less noise. The secondary 5MP camera is used only for depth information when taking portraits.
It has a 25MP sensor with 0.9µm pixels behind f/2.0 lens, but no autofocus. It offeres a binned 6MP mode as well, which loses a lot of detail in good light, but is the preferable option in dimmer conditions.
You can't shoot in "native" 48MP with the main camera, but you can opt for 25MP shots for the selfie shooter. It takes about 5 seconds to capture and save one, though, because it seems the One Vision doesn't have particularly fast storage.
The camera app hasn't changed one bit since the G7 series. It's pretty straightforward with a mode selector, photo and video defaults on the viewfinder. Everything else is in Settings, which is also found within the Mode Selector.
Manual mode is available and is surprisingly full-featured and includes shutter speed and ISO controls, even manual focus.
Image quality
The One Vision camera supports Auto HDR and it is enabled by default. When shooting in Auto HDR the phone will always stack multiple images for a clearer picture with boosted dynamic range.
The 12MP photos we shot with the camera's default settings - meaning in Auto HDR - turned out pretty good. They have excellent detail, low noise levels, and lively and accurate colors. The dynamic range is excellent, too. The processing could use some tuning though, as sometimes it messes up intricate details - such as grass or the lattice windows.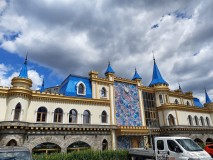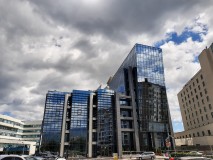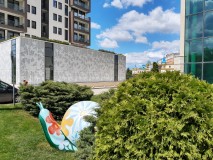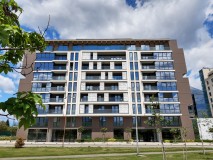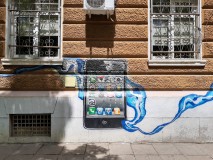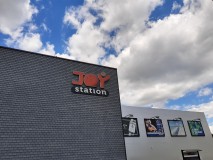 Motorola One Vision 12MP Auto HDR photos
If you turn off the HDR, the camera ocassionally shoots a bit sharper images, but in most cases the only difference is the visible reduction in dynamic range. While non-HDR shots aren't too bad it's a much safer bet to stick to Auto HDR.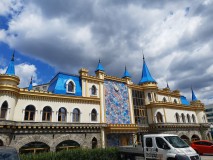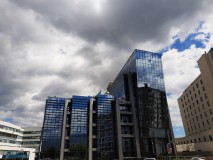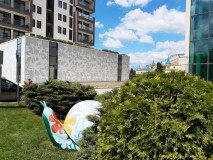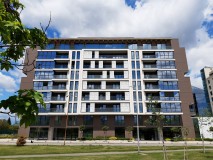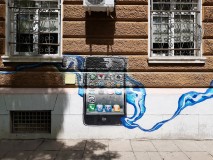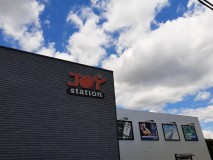 Motorola One Vision 12MP normal photos
The One Vision camera can't shoot in 48MP even in manual mode, but as we know Quad-Bayer sensors aren't really meant to do that anyway so we don't consider it a huge loss.
The optical image stabilization changes everything when it comes to low-light photography. While we usually get passable images from this class, the OIS is the One Vision's trump card. Thanks to the bright aperture and stabilization, the One Vision snaps brilliant low-light photos in Auto mode. There is a significant amount of detail, low noise levels, balanced highlights, and good contrast.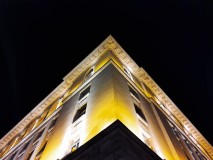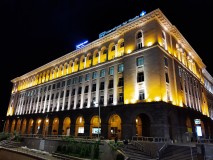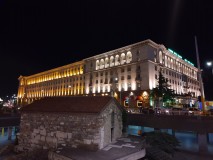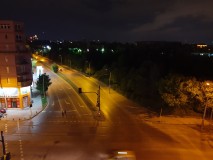 Motorola One Vision 12MP low-light photos
The One Vision has a dedicated Night Mode, similar to to the various pseudo long exposure night modes you'd find on an increasing number of smartphones these days. It needs about 2-3 seconds, reduces you field of view a little and outputs 12MP photos as expected. There's a boost in the shadows, the algorithm is trying to keep the highlights from clipping, while it also boosts the contrast and color saturation. They aren't quite perfect, but they certainly are among the best you can get from a mid-ranger.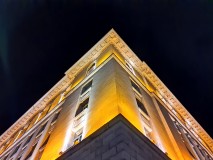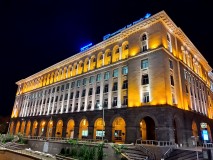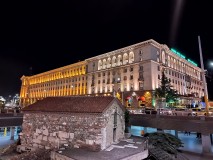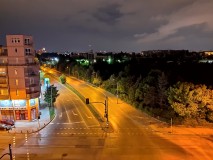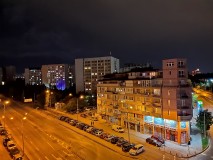 Motorola One Vision 12MP Night photos
Once you're done with the real world samples, head over to our Photo compare tool to see how the One Vision stacks up against other smartphones.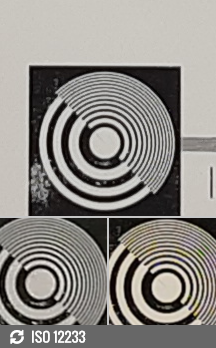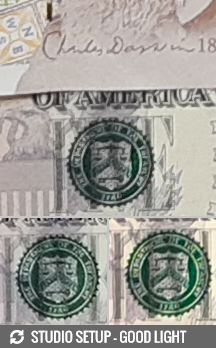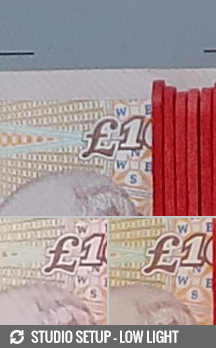 Motorola One Vision against the Huawei P30 Lite and the Realme X in our Photo compare tool
Portraits
The Motorola One Vision has a standalone 5MP camera to help capture the scene depth information and should be producing some great portrait shots. Those are saved in 12MP and the separation is very good, flagship-level if you will, there are no abrupt transitions, and the algorithm is smart enough not to get fooled by objects close to the face.
You can adjust the blur strength and you can add lighting effects if you like.







Motorola One Vision 12MP portraits
Selfies
The Motorola One Vision comes with a high-res 25MP selfie camera behind f/2.0 lens. The focus is fixed, which is rather disappointed but not uncommon in this price range.
You can shoot in 25MP resolution here, but it comes at a price. It takes up to 6 seconds for a picture and it's quite frustrating. Still, if you get the distance right, and if there's plenty of light - you can get some amazingly detailed selfie with great colors.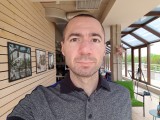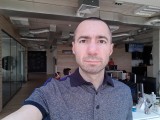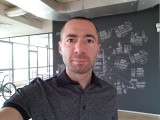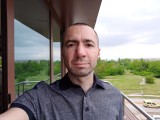 Motorola One Vision 25MP selfies
The binned mode outputs 6.2MP photos, but they lose quite a bit of detail. Colors remain excellent, but if you are not in a hurry and there's good light available we'd suggest you shoot in the highest quality mode.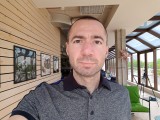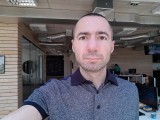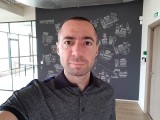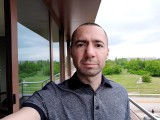 Motorola One Vision 6MP selfies
The One Vision has just one camera at its front, but it can still do portrait shots. Those turned out okay - the subject separation is good, in fact better than we expected from a single fixed-focus camera. However, since it's mostly computational phorography involved the results are bound to vary depedning on your hairstyle and choice of background. You can adjust the blur strength and use portrait lighting effects.







Motorola One Vision portrait selfies
Video recording
The Motorola One Vision records video up to 4K at 30fps and there's 1080p at both 30fps and 60fps. Optical stabilization is available on all resolutions. There is also a digital one - accessible via a toggle on the viewfinder, but it's only available in 1080p mode.
4K videos are encoded with a generous 48Mbps, while the 1080p clips (both 30 and 60 fps) have 12Mbps video bitrate. Audio is always stereo, recorded at 256kbps.
4K footage looks excellent in spite of the bad weather around. The detail levels are only okay, but the colors are great, exposure is on point and dynamic range is quite good as well. The same is valid for the 1080p/30fps videos. The 1080p/60fps clips are less detailed, quite expectedly as they have the same video bitrate as the 30fps ones, but other than that - they also deserve the rest of the praise, minding the weather that is.
We did our usual video stabilization test and the OIS-only footage isn't looking very stable, though it still makes a big difference. Using the EIS in the 1080p mode produces excellently stabilized videos, as expected.
Here's a glimpse of how the One Vision compares to rivals in our Video compare tool. Head over there for the complete picture.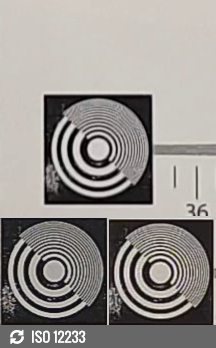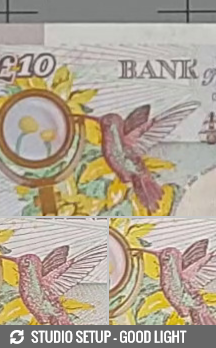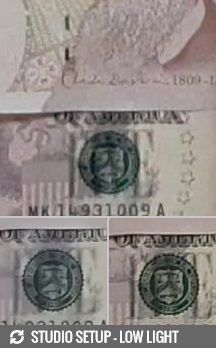 2160p: Motorola One Vision against the Moto G7 Plus and the Realme X in our Video compare tool