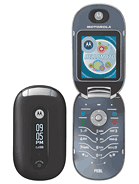 s
Moto is missing the key feature memory card?!!! Or they did it knowlingly??? What about phone book memory 1000*1 or 1000*5. Come up with good features also as per the standard
z
does any one know if it has bluetooth?
?
What is the price range and who is going to be the carrier for this phone? anyone knows?
e
No, it does not have a memory card slot, and it's really a pity.
We could only hope that Moto insert a memory card slot before they ship this beauty in to the stores!
P
It's such a pity, it's a really pretty design, but doesn't have a memory slot...
or does it have one?
L
its ok could be better with more features

u
Oh now i can see what the phone looks like!
A glasses case! Funny design lol
?
Standby & talk time way too short!
u
Cant really tell what the phone looks like, all the spec is good part from the memo like you said. There is no IR but people might not need if it you have usb.
?
What's wrong with Moto? 5MB of memory! Too bad, it's a pretty phone..
Total of 611 user reviews and opinions for Motorola PEBL U6.
ADVERTISEMENTS