The Moto G existence has officially been confirmed by Motorola and Google but all we're getting right now is a teaser. The official announcement will take place on November 13, which is next Wednesday.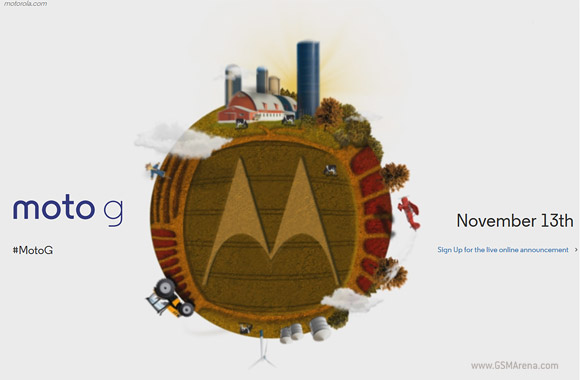 Check out the teaser page here.
We received a new tip from an employee of a UK-based retailer with the photo below. Our tipster was told not to put up the tag until November 25, which makes the 25th the likely launch date for the Moto G.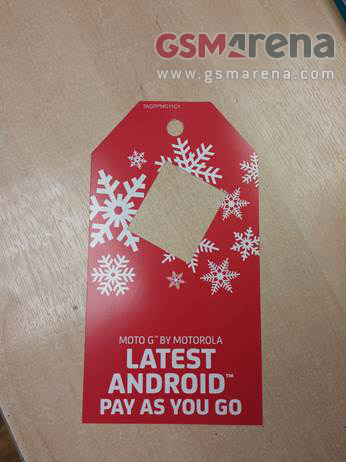 From past leaks we know that the Moto G is a cheaper alternative to the Moto X. It will have a 4.5" 720p screen with Gorilla Glass, quad-core Snapdragon chipset (perhaps a 200 with quad-core 1.2GHz Cortex-A7), 5MP camera with 720p video, and 8GB of storage. The G will run Android 4.3 Jelly Bean instead of 4.4 KitKat (though this rumor is from before the KitKat announcement).
According to a tip we received, the Moto G will cost just £135 off contract (that's $215 or €160).
The teaser page for the Moto G shows a globe, which may indicate a worldwide launch (the tip from the UK helps too). This is welcome news considering the Moto X is next to impossible to find outside the US.
J
beware. motorola has a reputation for not providing any good software upgrades to its mid range phones. try to remember what happened to defy+ that was perfectly good for ICS and in fact would have greatly benefited from it. The most you are going to...
P
The price tag does not make a phone midrange but its specifications, When Note 3 is with 3G Ram phone with less then that going in the midrange and below, like some "premium brand" The android OS is involving so fast that needs better hardw...
L
Average salary in my country is about USD $400 - $500 per month... In many countries, they do not have operator bundle so it means you compulsory to buy phone off contract. Now you saying 2014 have to be all high end model? That means I must spend a ...