Motorola Razr fully torn down on video, virtually impossible to repair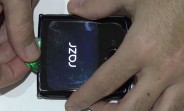 A full disassembly video of the newly released Motorola Razr has arrived and unsurprisingly it's not great news. The foldable screen phone is next to impossible to repair on your own.
The video gets right to the point and begins by heating up the rear of the lower half of the phone. This comes out along with the lower cover, which includes the fingerprint sensor, which needs to be unplugged.
Now some screws can be removed from the lower panel, which detaches the lower antenna assembly along with the loudspeaker. Next up, the battery comes out, its connector being held by a plastic bracket and the battery is attached by adhesive.
After removing several screws to take out the vibrate motor and unplugging the microphone cable, a panel can be removed to reveal the mainboard underneath. By this point, we're still digging around the back and the lower bump of the phone and we're not close to the hinge mechanism yet.
Next, the area around the external display is heated and carefully removed – its held in by a ribbon cable. Once this comes out, the folding display begins to separate from the frame after removing more screws. After removing a bracket, the screen slides out of the assembly – the display panel itself is impressively thin. You can watch the phone be reassembled in quick motion at the 11-minute and 55-second mark.
Without a doubt, the Razr is practically impossible to repair. Both rear panels need to be removed with a heat gun in order to even access the internals. There are lots of parts crammed into the small foldable assembly. It is quite an impressive piece of technology, but one that doesn't seem to be easily serviceable so make sure you take good care of it.
Thanks for the tip!
n
it is virtually impossible
s
wow! that's one very affordable foldable phone. or have you purposely omitted one zero?
ADVERTISEMENT