Motorola is pushing forward with the second generation of its DROID RAZR family brand and just announced the Motorola DROID RAZR HD. The trademark slender body of the handset has been changed up a big, but it's still more compact than a Samsung Galaxy S III or HTC One X.
The RAZR HD measures 131.9 x 67.9 x 8.4mm and weighs 146g, so it's thicker than the previous one, but the thickness is more uniform.
As the name suggests, the DROID RAZR HD has a larger 4.7" edge-to-edge Super AMOLED display of 720p resolution.
The back of the device is again made of Kevlar, but this time it wraps around the edges of the headset too. The camera here is an 8MP snapper with 1080p video recording and LED flash.
The RAZR HD is powered by a Qualcomm chipset with a dual-core Krait CPU, 1GB RAM and Adreno 225 GPU. It will be running Android 4.0 Ice Cream Sandwich out of the box. It will be upgraded to Jelly Bean later on - of course, Motorola is a Google company and we expected nothing less.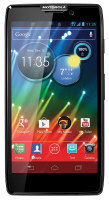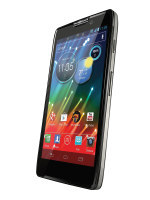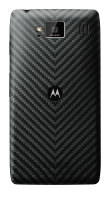 GSM version of the Motorola RAZR HD
Chrome will come pre-installed on the new DROID RAZRs, and Motorola was keen to point out how fast it is.
The battery on the Motorola DROID RAZR HD is 2,530mAh, so battery life should still be good with the power-efficient 28nm Qualcomm cores. For example, it offers 16 hours of talk time.
There will be a Motorola DROID RAZR MAXX HD too, with the same 3,300mAh battery as the previous version. It measures 131.9 x 67.9 x 9.3mm and weighs 157g. Battery life is listed as up to 21 hours of talk time, 27 hours of music streaming and 10 hours of video streaming. Impressive indeed.
Other interesting features on the HD include NFC connectivity, dual-band Wi-Fi, Bluetooth 4.0 and an HDMI port. The RAZR HD will have 16GB of built-in memory, while the RAZR MAXX HD will have double that. Both have microSD card slots.
The LTE-touting Motorola Droid RAZR HD and RAZR MAXX HD will launch on Verizon before the holidays. There will be a GSM version of the RAZR HD too, but not the RAZR MAXX HD for now.
E
http://www.o2online.de/eshop/katalog/detail/privatkunden/geraet-ohne-vertrag/motorola-razr-hd-schwarz
D
i was actually thinking of buying the maxx hd the very day it came out, something i never do. but since they arent bothered bringing it out in europe ill have to go and spend my money somewhere else i suppose. ffs
D
This is a real shame, was waiting for a year for this phone. Its devastating news to hear that it isnt gooing to launch in europe. F this,,
ADVERTISEMENTS