Introduction
Motorola advertised its On Display event as the day's main event, which was rather bold considering that the world's number two cellphone manufacturer announced its WP8 lineup. However, seeing the kind of hot hardware that the Google-owned company announced, its arrogance might not be completely unfounded.
Motorola treated us to three new members of the RAZR family - the Motorola RAZR M mid-ranger, the Motorola RAZR HD flagship and the Motorola RAZR HD MAXX battery life champion. The first two of those will be available both as global GSM devices and on the Verizon network, while the RAZR HD MAXX will initially be exclusively available as a part of the Verizon DROID family.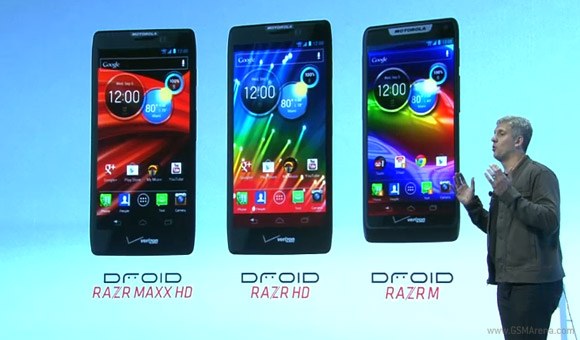 The Motorola (DROID) RAZR HD impresses with its large 4.7" edge-to-edge Super AMOLED display of 720p resolution. The back of the device is made of Kevlar, but this time it wraps around the edges of the headset too. The camera offers 8MP stills and 1080p video recording.
The LTE-touting Motorola (DROID) RAZR HD is powered by a Qualcomm chipset with a dual-core Krait CPU, 1GB RAM and Adreno 225 GPU. It will be running Android 4.0 Ice Cream Sandwich out of the box with an upgrade to Jelly Bean scheduled for Q4.
For the most part, the Motorola DROID RAZR HD MAXX is identical to its sibling, but it upgrades the already impressive 2,530 mAh battery to the hard to believe 3,300 mAh. It also ups the available internal storage from 16GB to 32GB. Naturally, that comes at the expense of a few extra millimeters around the waist, but the RAZR HD MAXX still measures the very respectable 9.3mm of thickness.
Finally, the RAZR M is Motorola's answer to those asking for phones to remain as compact as possible. It packs a smaller 4.3" qHD 540x960px Super AMOLED Advanced screen and measures just 122.5x60.9x8.3mm. It still manages to offer LTE connectivity, an 8MP camera capable of doing 1080p video and an S4 chipset with a 1.5GHz dual-core Krait CPU.
We'll handle the Motorola DROID RAZR HD right after the break, with the DROID RAZR MAXX and the DROID RAZR M following on pages 3 and 4.
G
OMG. This phone brings back such great memories, even after nearly 10 years. The Razr M XT905 was so compact & felt solid with it's black anodised aluminium chassis & rubberised backing. It ran pretty smooth on Jellybean too. And then I ...
E
first!!! l love the spare of the (motorola DROID RAZR MAXX HD)>> this phone helps me a lost like browser/send and received>> may God bless the company and keep the good and service will in them
D
My Motorola in not working..the model is XT905..no have signal.. I try to open line..but not working..what I should do?