ICS update brings revamped custom UI
The Motorola RAZR MAXX launched with Gingerbread, but has since moved on to Ice Cream Sandwich. The update brought more than just a change of the underlying OS -Moto's customizations have been refined too.
Before we go on, here's the user interface in action to give you an idea of what we're dealing with.
The lockscreen is inspired by the current trend in Android lockscreens - providing shortcuts to commonly used features. It uses a familiar "drag out of a circle" action to launch the dialer, the messaging app, the camera or simply unlock the phone. Instead of dragging, you can just tap the key icon and tap the icon of the app you want. A ringer toggle is also available.
The lockscreen can be further customized with a couple of other options - Face Unlock, of course, but also the more standard PIN, pattern and password unlocks.
The homescreen consists of five side-scrollable panes. A tap on the Home key brings you to the middle pane, but oddly the preview mode that showed a zoomed out view of all five homescreens is gone. This means you can no longer easily rearrange homescreens.
The Motorola RAZR MAXX comes with a long list of custom widgets to place around the homescreen. Some widgets can be resized, all you need to do is tap and hold on a widget. Resizing also changes the widget's appearance - depending on the widget, it can display more or less info when resized.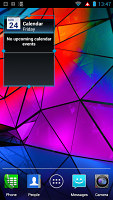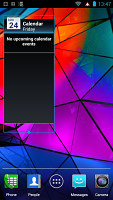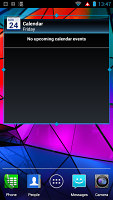 Widgets can be adjusted to be bigger or smaller
The notification area is pulled down from the top, as usual. It's a clean, unaltered notification area - no quick toggle buttons or anything like that in here. You still get the swipe to dismiss function that ICS brought.
At the bottom of the screen there is dock with five shortcuts - the center one always brings up the app drawer, but the other four you are free to replace with whatever app you want (even a bookmark or a playlist).
You can create folders in the familiar ICS way. All you have to do is swipe the icon over the one you want to pair it with.
As a final extra shortcut, you can also set up the Home key to launch an app on double tap.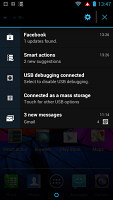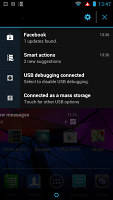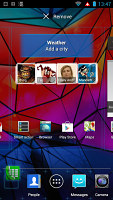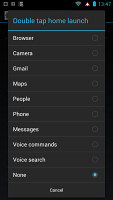 Notification area • Shortcuts dock at the bottom of the screen • Double tap shortcut
Speaking of the app drawer, it looks like the standard ICS launcher, but Moto has tweaked it a bit. Each page is a 4 x 5 grid of icons. The option to change the sorting order of the icons is no longer available (another feature missing since the transition to ICS).
What Moto kept in place was the Groups feature - the default ones are All apps, Frequent and Downloaded. You can create custom groups (and assign them custom icons). So, you can have groups labeled Work, Games and so on, which really helps get things in order if you have many apps installed. Later you can put those groups as shortcuts on the homescreen or even in the dock at the bottom to create an alternative app drawer.
The new ICS task switcher has taken over from the custom switcher (called "Recent") and the task manager that Motorola used on Gingerbread. The ICS interface is more intuitive and easier to use, so it's a welcome change.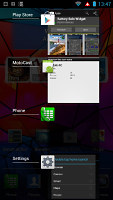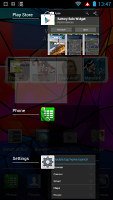 The new ICS task switcher takes over from two custom solutions
Synthetic benchmarks
The Motorola RAZR MAXX uses relatively old hardware - the TI OMAP 4430 chipset with a 1.2GHz dual-core Cortex-A9 processor, PowerVR SGX540 GPU and 1GB of RAM was all the rage last year, but is now little better than mid-range. Still, it has plenty of fight left in it, especially after a refreshing serving of Ice Cream Sandwich.
While the processor is no Krait, it got excellent scores in Benchmark Pi, though Linpack scores are a bit below other dual-cores. The AnTuTu score is around half of what the current quad-core flagships achieved, which is all that we could have asked from the RAZR MAXX.
Benchmark Pi
Lower is better
HTC One S
306
HTC One X
338
Samsung Galaxy S III
344
Motorola RAZR MAXX
402
Samsung Galaxy S Advance
530
Sony Xperia U
533
Sony Xperia P
539
Samsung Galaxy Beam
539
Motorola RAZR (Gingerbread)
593
Samsung Galaxy Ace 2
643
Linpack
Higher is better
HTC One S
210
Samsung Galaxy S III
177.1
HTC One X
126.1
Sony Xperia P
66.9
Sony Xperia U
64.9
Samsung Galaxy S Advance
64.7
Samsung Galaxy Beam
63.5
Samsung Galaxy Ace 2
54.9
Motorola RAZR (Gingerbread)
55.8
Motorola RAZR MAXX
51.2
AnTuTu
Higher is better
Meizu MX 4-core
11820
LG Optimus 4X HD
11735
HTC One X (Tegra 3)
10962
Samsung Galaxy S III
10767
Motorola RAZR MAXX
6030
Moving on to the 3D benchmarks, the PowerVR SGX540 manages to win out against single-core Mali-400 GPUs (like in the popular NovaThor U8500 chipset that recent mid-range dual-core droids employ), and that's with a qHD screen whereas most of the competition uses WVGA or less.
NenaMark 2
Higher is better
HTC One S
60.5
Samsung Galaxy S III
58.8
HTC One X
47.5
Motorola RAZR MAXX
36.9
Samsung Galaxy Beam
35.8
Samsung Galaxy Ace 2
31.6
Sony Xperia P
29.9
Sony Xperia U
28.3
Motorola RAZR (Gingerbread)
27.2
GLBenchmark Egypt (offscreen 720p)
Higher is better
Samsung Galaxy S III
103
HTC One S
56
HTC One X
55.7
Motorola RAZR MAXX
29
Sony Xperia P
19.6
Sony Xperia U
19.3
Samsung Galaxy S Advance
19.2
Samsung Galaxy Beam
19
Samsung Galaxy Ace 2
16.3
The ICS web browser gets a big bump in performance compared to the Gingerbread one. With the update, the Motorola RAZR MAXX successfully rivals an iPhone 4S in both JavaScript performance and HTML5.
SunSpider
Lower is better
Samsung Galaxy S III
1447
HTC One S
1708
HTC One X
1757
Motorola RAZR MAXX
2136
Samsung Galaxy Beam
2517
Samsung Galaxy S Advance
2663
Sony Xperia P
2784
Sony Xperia U
2814
Samsung Galaxy Ace 2
2997
Motorola RAZR (Gingerbread)
3455
BrowserMark
Higher is better
Samsung Galaxy S III
169811
HTC One S
98435
HTC One X
96803
Motorola RAZR MAXX
92653
Samsung Galaxy S Advance
81557
Samsung Galaxy Beam
81136
Sony Xperia U
75906
Sony Xperia P
72237
Samsung Galaxy Ace 2
62252
Motorola RAZR (Gingerbread)
59783
Vellamo
Higher is better
Samsung Galaxy S III
1890
HTC One X (Tegra 3)
1629
LG Optimus 4X HD
1568
Meizu MX 4-core
1468
Motorola RAZR MAXX
1392