Through thick and thin
Motorola RAZR XT910 review: Through thick and thin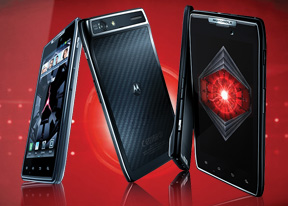 Full organizer suite with Office document editing
Like most droid siblings, the Motorola RAZR comes with a rich set of organizer features and Moto even threw in a version of Quickoffice that can edit documents too (on most phones, this is a paid upgrade).
Quickoffice is an excellent app that has support for viewing several file types - Word, Excel, PowerPoint and PDF. It can also edit and create new .DOC, .XLS and .PPT files (both 2003 and 2007 versions are supported). You have plenty of formatting options, inserting images, Excel formulas and so on.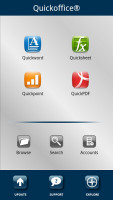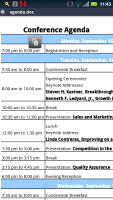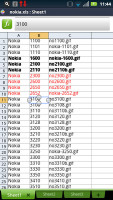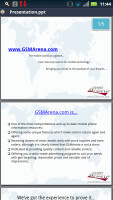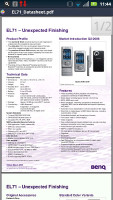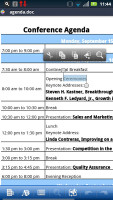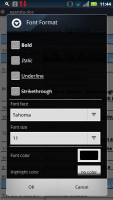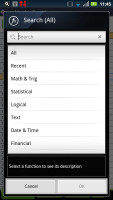 Quickoffice comes preinstalled • Editing a Word and an Excel document
The calendar has four different types of view - agenda, daily, weekly and monthly. You can use the phone calendars or one of your online calendars to schedule events. You can also set multiple alarms to act as a reminder. The calendar integrates with the status bar and also offers pop-up notifications.
The calculator is nicely touch optimized – the buttons are big enough and easy to hit.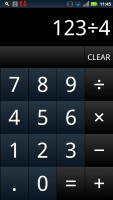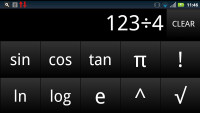 The Calculator • Some advanced functions are available
The RAZR features a decent alarm clock application which allows a huge number of alarms to be set, each with its own start time and repeat pattern. You can customize the clock used in the Alarm app if you feel like it and there's a built-in timer here too. No stopwatches or world clocks though.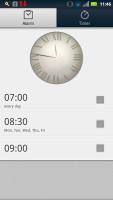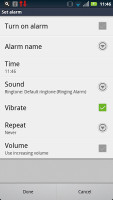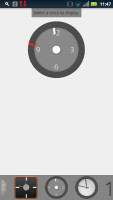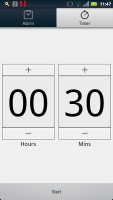 The Clock app • Setting an alarm • Choosing a clock face* The Timer app
There's a file manager on board as well - it can browse both the internal 16GB memory and the microSD card. Also, there's support for browsing shared folders on the Wi-Fi network you're connected to and also explore computers running MotoCast.
Finally, there's a really clever app called Smart Actions - it allows you to create automatic actions triggered by different conditions you set. You can have the phone do various things (e.g. disable background sync, change screen brightness, display a notification to remind you of something, etc.). There are several sample actions that are useful in various situations but you can create your own from scratch too.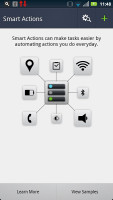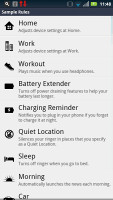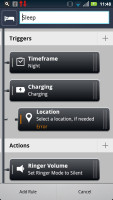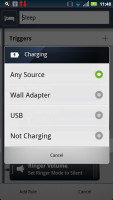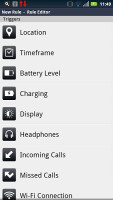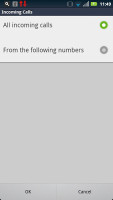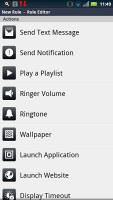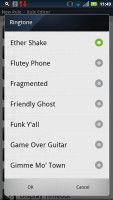 With Smart Actions you can automate a lot of things on you RAZR
Social networking integration
Motorola's flavor of Android has always been heavy on social networking integration and the RAZR is no exception. We've already showed you the social side of the messaging app, the phonebook and gallery.
There're also live widgets with social updates, which you can directly place on your homescreen, to keep you up to date.
The first one is Social Networking. It can display status updates from all your social networks (or just the ones you pick) and it can be used to set your status on some or all social networks.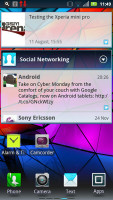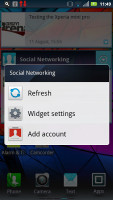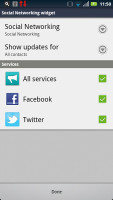 Social network widget and its settigns
Then there's the Social Status widget, which lets you post status directly from your homescreen to social networks of your choice. It shows your last posted status update.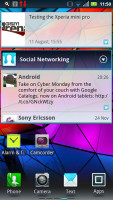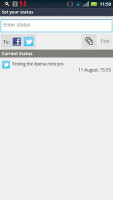 Social status widget • Updating a status
The Social networking app shows you a list of all status updates from all your social networks. You can easily switch to viewing updates from only a single network or only updates posted by you. You can like Facebook posts, retweet tweets and post status updates of your own from this app.
Another app, called Social location, lets you check into places and view check-ins from your Facebook friends. You can also use the app as a directory of interesting places and events nearby.
Android Market
The Motorola RAZR runs a very recent version of Android and with a qHD screen and a powerful chipset, it should be able to handle most apps in there too.
The structure of the Android Market is quite simple – featured apps on top and three buttons (Applications, Games and My apps). There is also a shortcut up there for initiating a search.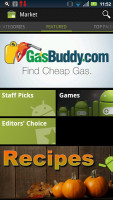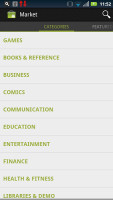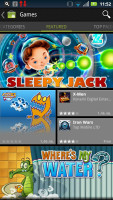 The Android Market • Market categories
The Applications and Games sections are divided into subsections (e.g. Communication, Entertainment etc.) so you can filter the apps that are relevant to you. Of course, there is also an option of displaying them all in bulk, but you'll probably need days to browse them all that way.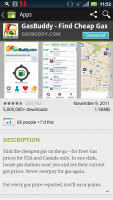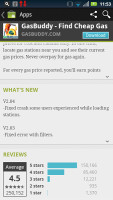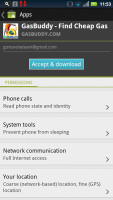 App description • Installing an app
There are all kinds of apps in the Android market and the most important ones are covered (file managers, navigation apps, document readers etc.).